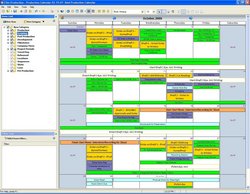 Reusing lesson plans from year to year and linking allows me to improve each year without starting from scratch and saves tons of time
Beverly Hills, CA (PRWEB) October 11, 2007
As educational institutions, educators and administrators overhaul existing processes and scheduling solutions -- many are turning to The Calendar Planner from Reel Logix as an alternative or to compliment more costly and complex systems.
Already a great value at $99, the additional 25% educational software discount on single units or site licenses makes The Calendar Planner even more budget-friendly for educators.
The Calendar Planner provides an easy to use and unique approach to scheduling that is ideal for event and project related educational scheduling. The software has been widely adopted in the education and research sectors by universities such as Florida State, Duke and Yale, research centers like the "Social & Economic Sciences Research Institute" and "The Southwest Research Institute" as well as many K-12 schools worldwide.
Scott Sumpter of Cascade High School said the following about The Calendar Planner: "Reusing lesson plans from year to year and linking allows me to improve each year without starting from scratch and saves tons of time".
Whether you need to manage lessons plans, classroom schedules, or school events and activities, The Calendar Planner provides a wealth of time saving features. For example create and save templates for use year to year, or quickly push your existing calendar forward by days, weeks, months or years. Easily group events by type, subject and more, then filter quickly to only view events on the topic you want. Share calendars among staff on the network or as PDF calendars. Or save as web calendars, ready to publish with your own logos and style.
"The Calendar Planner is an attractive tool for Educational Institutions since many are looking for scheduling solutions that are more flexible and easier to use and deploy than some existing antiquated systems," said Randy McGowan CEO of Reel Logix.
The Calendar Planner is a great alternative because it not only provides an easy to use platform but with the ability to handle import and export using formats like XML and CSV it can be easily integrated with existing data storage or software programs, providing a new interface for working with existing information.
Educators, Students and Administrators qualify for the 25% educational software discount on The Calendar Planner. Apply now to obtain your educational software discount.
# # #