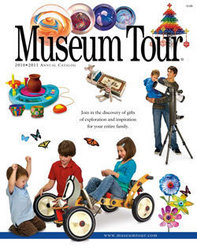 Museum Tour specializes in educational toys and learning games for children which provide families worldwide with quality, entertaining, educational products that extend the museum experience into the home.
Portland, OR (PRWEB) September 18, 2010
After a year in the making, Museum Tour Catalog unveils its new 2010-2011 educational toy and game catalog and its new e-commerce website with enhanced educational features. Both the Museum Tour website and catalog are focused on assisting parents with the in-home learning process and aiding educators with new ideas for teaching with standards-based and ready- made products requiring little preparation for use.
To maximize the in-home and classroom learning experiences, Museum Tour secured a great deal of exclusive products which are all available in the 2010-2011 educational toy catalog and on the new website.
The new educational toy catalog and website are designed to help parents better understand the learning styles of their children. The catalog now lists the attributes of each product to help parents and educators select the most appropriate educational toy, book, game or puzzle for their child's learning style. Museum Tour allows parents to sort by age, grade and learning style.
The new website features an Educational Resource section which includes articles, fun learning activities, information on discovering your child's learning style and an educational blog. Educators have long been aware that learning is not one-size-fits-all. Today, 92% of educators are spending their own money on educational materials. Museum Tour now offers curriculum-based educational products to meet their needs, featured in The Learning Center of the new educational catalog.
Children should be allowed to learn at their own pace and in their own style. Learning is effective and fun when parents understand their child's learning style. Museum Tour suggests parents provide children with play opportunities that support different kinds of learning styles such as auditory-musical, bodily-kinesthetic, spatial-artistic and logical-mathematic learning. Museum Tour recommends toys, games, puzzles and other items that encourage open-ended play and "do more than one thing" such as blocks. A child needs lots of unstructured play time to explore. Too many scheduled activities can add stress to your child's life and distract him from exploring the pleasures of learning.
Museum Tour donates to organizations that support military families, disaster victims, low income schools, clubs, and shelters. In its endeavor to extend the museum learning experience into homes, Museum Tour shares its profits with its 22 museum members.
Museum Tour Catalog is located at 2517 SE Mailwell Drive, Milwaukie, Oregon 97222. For further information, please contact Barbara Lund at barbl (at) museumtour (dot) com or 503-496-1256.
Web: http://www.museumtour.com
Blog: http://blog.museumtour.com
Twitter: http://twitter.com/museum_tour
Facebook: http://www.facebook.com/MuseumTour
###