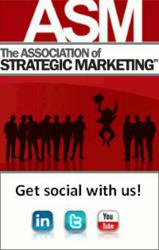 (PRWEB) August 14, 2012
The Association of Strategic Marketing will host an educational training live audio conference entitled 'How to Instantly Build Trust Online' Friday, September 7, 2012 from 1-2:30 p.m. EST. Bestselling author, Tim Ash, will reveal the Four Pillars of Trust in an online environment and how people can effectively use them to smooth the way to their online conversion goals.
According to Tim Ash, trust between website visitors and brands must be developed without any face-to-face interaction – and it must be done within the few seconds that it takes a web visitor to evaluate the proposition. Before people will act or transact, their concerns and anxieties must be alleviated.
As the CEO of SiteTuners, a landing page optimization firm that offers conversion consulting, full-service guaranteed-improvement tests and software tools to improve conversion rates, Tim Ash will share his professional expertise when it comes to improving online conversions.
By discussing Ash's Four Pillars of Trust, attendees will:

Find out how to increase their online conversions
Understand why it's critical to build the trust of their audience
Uncover website design tips that work
Discover what may be hurting their online credibility
Get their tough questions answered and apply them to their business the next day
To register for the live audio conference or to purchase the CD & Manual Package, please visit http://www.associationofmarketing.org/audio-conference/389863?tab=overview
About the Association of Strategic Marketing
The Association of Strategic Marketing (ASM) is a training and development website dedicated to the enhancement of the marketing profession. ASM is committed to the specific educational and developmental needs of members looking for unique, up-to-date Marketing training opportunities through audio conferences, seminars, webinars and articles. ASM members also gain access to product offerings and other educational tools that assist in securing their position at the forefront of their respective disciplines. ASM delivers an overall experience that gives their community of marketing professionals a distinct competitive advantage.