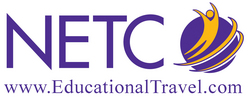 As a result of the safety concerns that emerged across the U.S. immediately following 9/11, we encountered a noticeable uptick in the number of Spanish teacher-led trips to Latin American countries
Boston, MA (PRWEB) March 11, 2010
According to recent research conducted by National Educational Travel Council (NETC), Latin America has emerged as the largest growth destination for educational travel from the United States. NETC reports that between 2000 and 2009, of all the educational trips that were conducted under the supervision of High School teachers, the percentage of those to Latin American countries had doubled. NETC reports that the percentage of trips to Latin American countries that are led by High School teachers has doubled in the last ten years. Company officials first noticed this increased interest in Latin America following the 9/11 attacks, but also attribute this significant shift to a number of other factors.
"As a result of the safety concerns that emerged across the U.S. immediately following 9/11, we encountered a noticeable uptick in the number of Spanish teacher-led trips to Latin American countries," remarked Justin Sockett, Executive Vice President of NETC. "More recently, however, we have noticed that the increased interest in experiential education, service-learning and eco-tourism, has perpetuated the ongoing popularity of these destinations for educational travel purposes."
As part of their research, NETC reports that the countries of Peru and Costa Rica comprised 80% of all of the educational travel trips to Latin America during this ten-year time span. The popularity of these two destinations for student travel correlates with their significant cultural and geographic diversity, but contrasts with the prevailing tourism trends of Latin America as a whole. According to the World Tourism Organization, Costa Rica and Peru rank as only the 7th and 8th most visited Latin American countries.
"The increased popularity of our educational travel trips to Latin American is not related to the overarching travel trends of Spanish speaking countries," said Sockett. "While Mexico attracts over 22 million tourists per year to explore resort locations such as Cancun, our educational trips take place in countries such as Costa Rica and Peru that are less attractive to leisure-seeking tourists, but lend themselves to more hands-on and educationally relevant service-learning and eco-tourism opportunities."
Service-learning remains increasingly popular in the U.S. According to research conducted by the Corporation for National and Community Service in 2008, 35% of all high schools now offer these activities as part of their educational programs. Eco-tourism, a growing travel trend that reflects an interest in both geographical aesthics and the importance of conservation, also continues to emerge as an important educational touch point amongst high school teachers. Latin America, an area that affords opportunities for service-learning based eco-tourism opportunities, has become the ideal destination for socially engaged educational travel.
"For a number of reasons, a student is much more likely to visit the popular countries of Europe at some other point in their lifetime," said Kevan Spano, a high school Spanish teacher from the Hamilton-Wenham school district in Massachusetts. "As a teacher, I want my students to have the opportunity to really step out of their comfort zones to immerse themselves in a culture and a way of life that seem frozen in time. In this way, students undergo a truly interdisciplinary experience and make connections with every academic area that they are studying; from music and art, to history, geography, and of course, Spanish."
For more information on educational travel opportunities in Costa Rica and Peru, click here http://www.educationaltravel.com/PR/Latin-South-American-Tours.aspx.
# # #