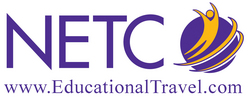 If the generation of men currently in high school wants to compete with women in an increasingly global workforce, they need to start now by gaining international experience in high school and college
Boston, MA (PRWEB) March 30, 2010
Research by NETC shows that nearly 7 in 10 high school students who participate in teacher-led international educational tours are female. This trend is remarkably similar to workforce trends published by Christina Hoff Summers, a scholar at the American Enterprise Institution. Hoff Summers found that 80 percent of jobs lost during the recent economic downturn were lost by men, leading Mark Perry, a professor of economics and finance at the University of Michigan to coin the term the "mancession". NETC's Executive Vice President Justin Sockett says that this trend should be of concern to the parents of high school boys.
"This generation's cultural and economic lives will be more connected to the rest of the world than any generation before them," said Sockett. "This makes it critical for American students to be exposed to other cultures early and often. American women seem to have figured this out and are setting themselves up to take the lead in a global marketplace, leaving high school boys at a major disadvantage, not just in the work force, but also in their candidacy for admission to competitive colleges."
"We know anecdotally that international travel on a college application is viewed in a very positive light by college admissions counselors," says Sockett. "This significantly enhances a woman's job prospects as the data shows."
Women now represent the majority of undergraduate students according to The National Center For Education Statistics. In 1970, 56 percent of the American college student population was male, yet thirty years later they compose only 43 percent of the student population at four-year colleges and universities. And while on average 133 women receive bachelor's degrees for every 100 men, according to the Bureau of Labor Statistics, at age 22, 185 women have graduated from college for every 100 men.
The United States is on the brink of a major shift in the gender balance of the workforce. According to the Bureau of Labor Statistics, as early as August 2010, it is projected that for the first time in US history, more women will be working than men.
"There are many benefits associated with international educational travel," says Sockett, "but if the generation of men currently in high school wants to compete with women in an increasingly global workforce, they need to start now by gaining international experience in high school and college."
"While your standard tourist trip to Europe certainly can open a student's eyes to new languages and cultures, a genuine educational travel experience can have a profound impact on a student's educational and professional careers," said Paul Orton, a guidance counselor at Morro Bay High School in California. "Students of mine often comment on how our tour together helped them choose a major, got them excited to do a study abroad program in college or convinced them to study new languages."
To learn more about teacher-led international educational tours, please visit NETC: http://bit.ly/c1LZ0D
The National Educational Travel Council (NETC) was incorporated in Massachusetts in 1993 and has since organized highly successful educational tours for hundreds of thousands of teachers and students. A community of educators, travel experts, and international education professionals, NETC is committed to providing students with an engaging and enriching, Educational Travel experience that instills a lifelong passion for learning and travel.
###