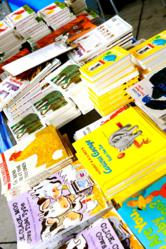 Literacy Day...accelerates EFS-assisted students' Kindergarten readiness as they acquire pre-literacy skills through hands-on activities.
Dallas, TX (PRWEB) November 30, 2012
Educational First Steps hosted the Fifth Annual Literacy Day at the Dallas Zoo on November 11, 2012. Over 2,800 EFS-assisted students, teachers, directors and family members attended the event, braving gray skies to enjoy a day of fun-filled learning. Each child received a book upon entering the zoo, along with tips for reading as a family and stickers from the book "Gruffalo." The children and families enjoyed performances by professional children's entertainer Mister David, ventriloquist Marciela & Friends and dancers from El Kinder Bilingual Academy. Authors Jan Peck and David Davis led interactive programming with the children and Miss Latina Dallas made an appearance for pictures. The children enjoyed giveaways, such as 1000 additional books from the Dallas Library, face painting and visits from superheroes such as Batman and Robin throughout the day.
"Literacy Day raises community awareness about the importance of reading, encourages families to engage in learning together and accelerates EFS-assisted students' Kindergarten readiness as they acquire pre-literacy skills through hands-on activities," stated John R. Breitfeller, EFS Executive Director. "EFS is proud to have facilitated another successful year of encouraging children and families to discover the joy of reading."