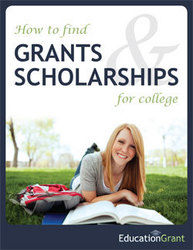 How to Find Grants & Scholarships for College
Wakefield, MA (PRWEB) November 3, 2009
As four-year college costs continue to outpace inflation and students borrow more loans to pay for tuition, fees, room and board, EducationGrant announces the availability of "How to Find Grants & Scholarships for College," a free college grant guide offering information on the various types of education grants and college scholarships available and the differences between them.
The guide also features tips on applying for scholarships, including:
1. Apply only for those scholarships you're really qualified for
2. Confirm application deadlines and stay on schedule
3. Give your reference writers plenty of time to write your recommendations
4. Proofread, proofread, proofread
5. Make sure your application has everything you were asked for and nothing you weren't
Over 30 percent of college students leave after the first year and almost 50 percent never graduate, according to the Department of Education. The leading reason for this problem is lack of money. Among those 2007-08 bachelor's degree recipients who borrowed student loans, College Board found the median debt was $20,000, and the Department of Education estimates about 12 percent of federal student loans going to college students ultimately end up in default.
"Financial aid is the key to paying for your college education, and understanding all of your financial options is vital to ensure that your goals are not put on hold," said Brian Eberman, CEO of Avenue100, a Washington Post company that operates a network of websites, including EducationGrant.com. "Every year, the Department of Education provides more than $100 billion in financial aid to nearly 14 million postsecondary students and their families. The more you know about the various kinds of financial aid, the better you will be at optimizing your eligibility and getting the best possible aid package."
For many students, the money required for tuition, fees, books, a computer, housing, transportation, childcare, and other education-related expenses will have to come from a combination of financial aid sources. EducationGrant's guide provides details on federal education grants, state financial aid, and tips on how to find scholarships in order to piece together the funding needed without having to rely heavily on student loans. Over 80 private scholarship opportunities are listed in the guide as well.
To download "How to Find Grants & Scholarships for College" for free, visit http://www.educationgrant.com/grants/college-grant-guide/.
For more insider tips and resources please visit our blog at http://www.educationgrant.com/blog.
About EducationGrant.com:
To help students navigate the complex and ever-changing financial aid system, EducationGrant delivers helpful up-to-date news, tips and information on student loan repayment, scholarships and grants for single mothers, scholarships for traditional and nontraditional students, the Post-9/11 GI Bill, and more. Learn more at http://www.educationgrant.com.
About Avenue100 Media Solutions:
Avenue100 Media Solutions, Inc. is a leading analytics-based performance marketing company that helps institutions acquire qualified customers. A Washington Post Company, Avenue100 operates a network of Web properties, including CourseAdvisor.com, EducationGrant.com, OnlineDegreeFinder.com, and the Washington Post education site, which collectively generate hundreds of thousands of leads per month. Learn more at http://www.Avenue100.com.
###