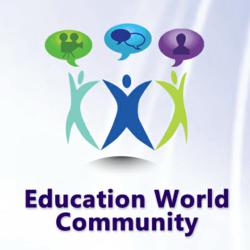 We've all seen the incredible ways that teachers can work together on the Internet. Our community takes that ability to the next level.
Meriden, CT (PRWEB) April 29, 2013
Education World has updated its teacher collaboration platform, the Education World Community, to make searching for educator-shared content easier and more precise.
The Education World Community provides a way for educators to work together online using the best Web 2.0 technology. It is open to any educator who wants to give or receive professional support, and share or find educational resources.
A private version of the community is also available to schools and districts. The private version is only for the use of district or school employees, but they still have access to the larger education community.
Other enhancements to the public and private communities include smoother transitions when private communities access public content and easier messaging options for districts to reach all of their community members.
The community was launched in 2011 to give teachers and administrators a place to set up groups and forums specifically for educators. The Resources section lets them upload or download many types of content, including videos. The most popular downloadable resources range from full e-books to themed units for a variety of subjects.
The site's video wall features downloadable videos for every K-12 level, from a video on learning the alphabet for young students, to a video on electric potential for advanced students. A tool creates blogs for educators so they can share their views and work.
"The Community blogs give educators a chance to address issues that matter to them, such as problem-based learning, the difference between phonics and phonemic awareness and how to work with students on current topics, such as the invasion of the giant snails in Florida," explains the Community's social media editor, Jason Cunningham.
"We've all seen the incredible ways that teachers can work together on the Internet. Our community takes that ability to the next level and offers educators every collaboration tool they need, all in one time-saving place."
For a free educator account, please visit educationworld.community.com.
To learn more about setting up a private community for your school or district, please view the video at http://youtu.be/QCFwtGF8GRM.
About Education World
Education World Community was launched by Education World, "The Educator's Best Friend™." Education World provides K-12 resources to teachers, administrators and school technology coordinators to enhance instruction and improve student performance. All resources are free all the time, and new content is added daily.