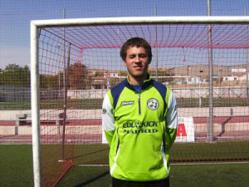 I am excited to represent my country, it's a dream come true. A change in the Head Coach has led to this call-up...he really likes my game and wants me there.
~Antonio Morelles
Madrid, Spain (PRWEB) December 07, 2011
EduKick Madrid's Antonio Morelles (17, Russia) is thrilled to be given this opportunity to represent his native Russia and assures his coaches and mates at the EduKick Madrid Academy that he will not disappoint. This is the first national team call-up for the gifted young defender. Antonio has been invited to participate in a number of matches for Russia's Under 18 squad between January 2-10, 2012.
Antonio is currently participating in the EduKick Madrid Soccer (Futbol) Academy and in addition to daily training with EduKick Madrid technical staff coaches, Antonio is also training with 3rd Division Spanish professional Club, A.D. Colmenar's senior reserve squad, while playing competitive weekend matches with A.D. Colmenar's "Juvenille A" squad.
"I am excited to represent my country, it's a dream come true. A change in the Head Coach has led to this call-up...he really likes my game and wants me there."
EduKick Madrid have a total five players currently training with A.D. Colmenar's Senior Reserve Team...Martin Garnevski (18, South Africa), Jaime Garcia (18, Canada), Conti Kolokotronis (19, USA) and Alando Atkinson (16, Malaysia).
EduKick Madrid Soccer Academy combines full-time educational courses (secondary study or Spanish language immersion) with daily, intense soccer development training. Players attend for an entire academic year (9 months), Half year (6 months), Semester (3 months) or on the Monthly (28 days) program. Currently EduKick Madrid has over 20 international players on the football academy course from eleven different countries. Competitive players from 13-24 years old are welcome to apply to this unique Spanish "futbol" Academy.
To learn more about EduKick Madrid Soccer Academy visit their E-Manual for details.
To read About Antonio and other EduKick "soccer success stories", check out the Alumni Page on the EIFA BLOG.
###