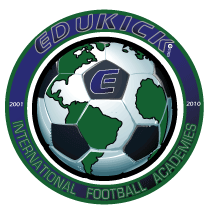 Contact us now via email, telephone or Skype me at jonedukick to chat about our international soccer boarding schools. I'm available to answer any questions that you may have.

- Jon Morgan, EIFA General Manager
Toronto, Ontario, Canada (PRWEB) June 27, 2012
EduKick International Football Academies (EIFA) announced from its headquarters in Toronto this week a registration deadline of August 15, 2012 for the 2012/13 Academic Year Soccer Boarding School Courses.
Since 2001, EduKick has been the international leader in academic year (nine month) education and soccer academy boarding schools with eight (8) venues in operation worldwide, including Spain, England, France, Italy, USA, Canada, Mexico and Brazil.
Training and studying abroad in an EduKick international soccer boarding school equips young student-players for life's challenges in a way no other experience can. Not only will they be prepared for a competitive international soccer environment, they will learn a deep appreciation for a new language and culture as well. By participating in an EduKick Soccer Boarding School Program, a player distinguishes himself from his peers as a soccer player by committing to a year-long soccer development training course abroad.
Interested parties should start preparations as soon as possible. The registration deadline is in August 15th, 2012 but ideally families should register their soccer player at least 2 months before school starts in September (to provide ample time to secure the Student Visa should it be required).
The required Student Visa allows your child to live in the host country for the duration of the EduKick Soccer School Program. This process can take from 3 weeks to a few months to complete, and requires a valid passport. Once you have registered for this course, EduKick will guide you through the process for securing a visa from your host country. If a player has a European Union passport the process for registering is even simpler because a Visa is not required.
Close supervision is a critical aspect of international student travel. EduKick provides bilingual directors for each group to assure twenty-four-hour guidance for the participating players. EduKick staff regularly accompanies year-long soccer boarding school students for the first week of the program to help them settle in to their new environment. Soccer School students move as a "Team" at all times and are not allowed to leave or do activities on their own.
EduKick Soccer Schools prepare our students for the competitive environment of international soccer. Students train two to three days of the week as part of a team and two to three days with internationally renowned EduKick coaches. We keep our coach/teacher to athlete ratio low to assure proper attention to your child's soccer instruction.
EduKick advocates for all its clients to reach the next level in their soccer dreams. The technical reports, and "recommendation letters" (provided upon request) from technical coaching staff overseas and from EduKick, Inc. front office are meant to aid players in promoting themselves and building their Soccer Résumé.
EduKick players are scouted principally on observation during specific oriented soccer course activities, including: open training sessions, matches or tournaments. For players who have a high ability of play, pre-engagements (professional soccer trials) may be set with some affiliated professional clubs. In these cases, EduKick Inc., though it's partner football/soccer organizations abroad, will follow-up and make arrangements on behalf of the player (upon receiving permission from the family of any youth player). Professional soccer trials are not a service that is guaranteed or included in the tuition fee for the Soccer Boarding School Programs. Only a select few players will be considered for any professional trials at the program's conclusion.
Academics are a major focus of our programs, and comprise a large part of our student's daily lives. Classes are structured similarly to the US, by subject and hour, with regular evaluations. Class attendance is mandatory, and parents receive an attendance record and progress report at Christmas break and at the end of the program. In all High School boarding school programs offered by EduKick the students cannot leave the school building during the day.
Attending an academic program taught totally in the foreign language presents a great challenge for students. We encourage our students to study as hard as they train to achieve the best overall results. They will greatly progress with their language and social acquisition through the duration of this unique nine-month program abroad. While EduKick does provide bilingual monitors, teachers and coaches, they still encourage the players to try to speak in the local language as much as possible. This maximizes the benefits of the language immersion element of the EduKick "year-long" program.
Living abroad allows our students to experience the rich culture and customs of another country. Not only will the player experience the day-to-day life of their home city, but EduKick offers periodic cultural excursions as well. No other soccer boarding school offers the deep cultural immersion that the EduKick program delivers. The confidence and knowledge our students acquire through our international soccer schools will last a lifetime.
International phone cards are a great way for the EduKick players to keep in touch with family and friends. They are readily available, easy to use, and allow you to monitor your spending. Email access is provided at all EduKick boarding school venues and most EduKick players bring their own laptops with them and SKYPE home to parents and friends on a regular basis. The students are also allowed to come back home for two scheduled vacations (Easter and Christmas).
EduKick welcomes interested and qualifying players to register today...and attend an EduKick Soccer Boarding School Abroad for the Language & Culture Soccer Experience of a Lifetime.