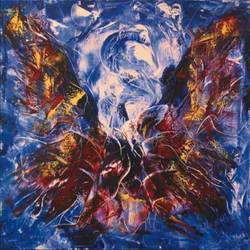 It is my honor and my hope for you to see, hear and feel what you had not before.
Mount Shasta, CA (PRWEB) April 10, 2009
Popular spiritual artist Edward Welter has moved his studio to Mound Shasta, CA, so he can encompass the inspiration he receives from the Shasta Mountain in his highly anticipated new paintings.
Originally from France, Welter quickly learned his true passion in life was bringing people spiritual joy through art. Welter quickly became known worldwide for his use of vibrant colors and incorporating a blend of expressionism, abstraction and lyricism.
Welter said, "As the artist, I am blessed to be a conduit, channeling messages from the Angels into the paintings. This is why everyone sees something totally different and unique in each painting, depending entirely on what you need to know at the time. What they want you to know at the time."
Because Welter has a deep personal connection with his paintings, it is vital he is inspired by the scenery around him. No place has moved him more than the natural beauty of Mount Shasta, a sacred mountain in the Cascade Range. That is why he has decided to move his studio to the northern-Californian town.
Welter stated, "My true intent is to really listen, and to take what I receive, express it in physical form, to pass it on to you where it becomes spiritual again. Full Circle."
Welter has had several exhibitions in the California area, and donated one of his paintings to the "Resiste 06" foundation, a French charity dedicated to women with breast cancer.
Welter said: "It is my honor and my hope for you to see, hear and feel what you had not before."
For more information or to view Edward Welter's gallery, visit http://www.edwardwelter.com.
###