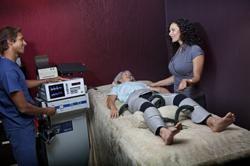 It literally saved my life.
Los Angeles, CA (PRWEB) February 27, 2012
Global Cardio Care®, Inc., manager of the largest independent physician practice dedicated to delivery of Enhanced External Counterpulsation (EECP®), announced today its Sara Soulati Health for Life Program. This revolutionary lifestyle program complements EECP therapy to turn patients into champions for the prevention and reversal of cardiovascular disease.
"Global Cardio Care's holistic approach to health treats the whole person, igniting the body's internal healing force and stimulating natural healing abilities," said Sara Soulati, CEO of Global Cardio Care Inc. "Patients who undergo EECP therapy with the Sara Soulati Health for Life Program experience complete mental and physical transformation."
The Sara Soulati Health for Life Program is a plant-based, nutrition and exercise program that features a course of EECP therapy at its core. EECP therapy is a safe, non-surgical cardiovascular treatment for people suffering from angina pectoris, coronary artery disease, congestive heart failure, hypertension, stroke and diabetes. EECP grows new arteries, repairs and re-grows function of diseased organs, improves blood circulation and increases energy. Clinical studies show that more than 75 percent of patients benefit from EECP and sustain long-term improvement post-treatment.
For each of the 35 days and more that patients receive EECP therapy, they also receive one-on-one training, education and daily assessment to reverse the damage of both early and late stage cardiovascular disease. Through daily treatment and coaching, people enrolled in the Sara Soulati Health for Life Program equip themselves with the skills they need to live a prevention-oriented life.
The Sara Soulati Health for Life Program is a five-star program. The five stars that make up this program are frequent screenings, daily education about vegan/plant-based nutrition and exercise, daily EECP, and daily assessments, all performed by qualified technicians who coach patients throughout the program. Real-time feedback about how the program is improving their health reinforces progress for patients enrolled in the Sara Soulati Health for Life Program.
About Global Cardio Care, Inc.
Global Cardio Care® Inc. was launched in 2002 by Sara Soulati to manage physician practices that deliver EECP® treatment. It is the only center dedicated to delivery of EECP for prevention of cardiovascular disease while other clinics focus primarily on end-stage disease treatment. Soulati created the Sara Soulati Health For Life Program for people seeking healthier longevity with EECP at the core of treatment. She launched her career in EECP 1996 and is a pioneer in the field of Enhanced External Counterpulsation. Visit Global Cardio Care at its website, on Facebook/GlobalCardioCare, on LinkedIn, on Google+, on YouTube, and on Twitter @EECPatGCC.
###