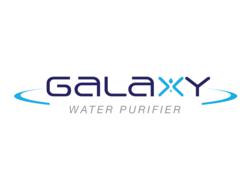 Water - the way nature intended it to be.
(PRWEB) February 26, 2013
The Galaxy Water Purifiers differ from others by achieving innovation through its patented EDC removal technology. The Galaxy Water Purifier is capable of removing compounds from water that harm the human body's endocrine system.
The Galaxy Water Purifier conforms to the FDA & EPA quality standards and also holds certifications from SGS, NSF, WRAS, EC 3000, KDF, WQA and ITRI.
The Galaxy Water Purifier has been certified by the ITRI for the removal of not only "current contaminants" but also "emerging contaminants" such as PPCP's - DEHP – PBDE - PFOA's and BPA plus 99% of the emerging contaminants as listed by the EPA.
EEES' research on the Galaxy Water Purifier shows that the purifier would appear to be the only system currently certified to remove these contaminants, which in EEES' opinion makes it the only one of its kind in the world.
With Galaxy Water Purifiers, chances are that the medical society will witness a tremendous downturn in endocrine system disturbances that arise due to exogenous factors. The human race will get truly pure water, the way nature intended it to be.
Endocrine Disrupting Chemicals (EDC's) are amongst the most fatal components present in our environment today and they are common in drinking water.

EDC's have been linked to cancer and diabetes as well as mammary and prostrate issues in the human body.
Bisphenol A (just one EDC) is believed to cause behavioural issues in children and can interfere with the reproductive system of animals and humans alike be they male or female.
FACT: The first Australian research on the existence of Bisphenol A, (a chemical commonly found in plastic bottles and tin cans) in the human body found that 84 per cent of pregnant women surveyed had detectable amounts of the chemical in their urine.
FACT: Studies in the United States showed that BPA appeared in the blood and urine of 95% of people tested.
With a one-of-a-kind proposition, EEES is seeking enquiries from distributors for worldwide and regional distribution for its revolutionary product. Investors and OEM manufacturers are also welcome to contact EEES.
About Energy Efficient & Eco Solution Limited: The core business of Energy Efficient & Eco Solutions lies within the "Energy Efficiency" "Carbon Reduction" & "Go Green" market segments within the worldwide market.
EEES's products have been known for reducing carbon footprints considerably. The cutting edge technology that has been used in the Galaxy Water Purifiers enables them to fight environmental contaminants in a natural and eco-friendly manner. The company also offers Thermo-Coat and Hydro-Coat along with Hydrogen Powered Fuel Cells and Vertical Gardens and Urban Landscape products.
Contact Energy Efficient & Eco Solutions Limited at:
Tel: + 86 755 6660 3763
Email:gwpsales(at)eees(dot)hk
URL: http://www.eees.hk