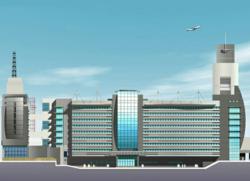 The designs developed for the renovations and expansions that EEGMA did at Egyptian International Airports have prepared us to take our services to the next level
Cairo, Egypt (PRWEB) September 26, 2011
Witnessed by millions of travelers from the four corners of the globe, the Egyptian International Airports recently underwent fundamental expansions and renovations that have been described by many as groundbreaking. Pertaining to the success achieved through these strategic renovations, Egyptian Engineering Group (EEGMA) is expanding beyond the country's borders and extending its services to international clients, targeting other international airports in the region and beyond.
"The designs developed for the renovations and expansions that EEGMA did at Egyptian International Airports have prepared us to take our services to the next level," says Mohamed El Refaei; Chairman and Head of the Board at EEGMA.
Inaugurated in 1977, EEGMA specializes in engineering solutions, consultations, designs and supervision experiences that have been accumulated over more than 30 years. Through its history, the company has built a diverse portfolio that includes airports, VIP lounges, commercial and administrative buildings, and exclusive residences.
"What makes us a cut above the rest at EEGMA is the credo we all follow at the company," comments Ahmed El-Hadidy; Vice Chairman and Board Member at EEGMA. "We don't believe in optimum solutions; we believe that there is always room for improvement, no matter how suitable or convenient a current solution may seem."
Besides the massive work that has been accomplished at the Cairo International Airport, EEGMA has also undertaken and completed flagship projects that include extensions, renovations and furnishings at the Hurghada international Airport, the Sharm El Sheikh International Airport and the Assiut International Airport. Additionally, the company has extensive experience in providing diverse engineering solutions, encompassing resorts, banks, commercial properties, office buildings and exclusive residences.
"We know what we're doing," says Mohamed El Refaei; Chairman and Head of the Board at EEGMA. "We also know this expansion to global markets is exactly what we need at the moment."
Among the projects that EEMGA is currently working on are the design of the new terminal building in Sharm El Sheikh. Terminal building 3 at the Sharm El Sheikh International Airport is being handled by EEGMA within an Spanish / Egyptian consortium and the final drawings, and designs are due to be submitted in the very near future to commence working on the tendering phase soon.
It is noteworthy that EEMGA has exclusive experience in coordinating between architectural, structural and electromechanical disciplines due to the company's long history and experience in contracting. It also has extensive expertise in airport interior design and furniture fittings and equipment (FF&E), with unique experience in upgrading existing airport terminal buildings.
Contact info:
Hisham El Refaei
EEGMA
+20 222 666 280
http://www.eegma.com
###