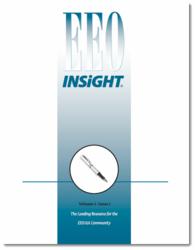 Our goal with this issue of EEO Insight and the BCGi resources is to equip professionals in the EEO field with the tools necessary to implement a well-informed strategy addressing compensation Directive 307.
- Heather Patchell, M.A.
Folsom, California (PRWEB) May 08, 2013
The Office of Federal Contract Compliance Program's (OFCCP) Directive 307 surrounding Compensation Analyses has arrived. The release of the Directive has prompted Biddle Consulting Group, Inc. (BCG) to focus the latest issue of EEO Insight on compensation analysis compliance and practical application. Brought to you by the thought-leaders in the EEO industry, Volume 5: Issue 1 has three power-packed articles dealing directly with compensation. The special compensation edition includes an article that delivers an easier-to-understand approach to the Directive, as well as two additional articles that help human resources practitioners appropriately apply the statistical methods behind compensation analysis.
EEO Insight subscribers receive free PDF issues twice a year. Join the BCG Institute for Workforce Development, BCGi, (http://www.BCGInstitute.org) and members automatically receive each issue electronically, in addition to several other member benefits. If you're looking for past issues, the archives (over 50 articles and growing) are available to BCGi Platinum members, as are additional compensation tools, including recorded webinars wherein, Dr. Patrick Nooren distills Directive 307 and discusses applications of the new Directive for HR practitioners. Complimentary EEO tools also available on BCGi include a 2010 Census Crosswalk (a translation or crosswalk of the 2000 to 2010 changes), future webinar training sessions, recorded training, and an adverse impact calculator, to name a few.
Need a refresher course in Compensation Analysis? BCGi is offering a summer compensation classroom series that will cover the statistics behind compensation analyses.
BCGi's mission is to inform and equip human resource professionals with the HR EEO training necessary to enhance their productivity, amplify their competitive marketability, and escalate their technical capabilities in equal employment opportunity (EEO), OFCCP compliance, affirmative action planning, compensation analysis, employment law and discrimination statistics, test development, test validation, and a variety of human resource topics with a focus on EEO.
As an HRCI Approved Provider, BCGi provides online HR EEO training created and presented by experts in the industry.