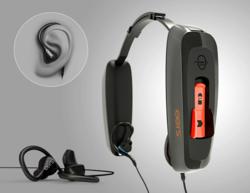 Sonomax® sculpted eers™ custom earphones sponsors Last Damn Show, headlined by hip hop superstar Drake.
Tampa, FL (PRWEB) November 18, 2011
Sonomax® Technologies, Inc. (TSXV: SHH) today announced that it is launching sculpted eers™ in Tampa during an integrated 6 week trial with CBS Radio starting with the official sponsorship of the Last Damn Show concert event, headlined by Superstar Drake and presented by WILD 94.1, on November 18th at the St. Pete Times Forum in Tampa. The integrated trial also includes a retail partnership with select Custom Acoustix stores in the Tampa area, an additional concert sponsorship play 98.7's Play in the Snow Show December 4 at Jannus Landing as well as an on-air and live radio endorsement campaign with three CBS Radio Tampa Bay stations: WLLD, WSJT and WYUU.
"We are very excited to bring sculpted eers to Tampa and central Florida. This trial is another important deal for Sonomax, providing the opportunity to educate the masses on custom-fitted earphones, bringing sculpted eers to life and helping increase sales." said Nick Laperle, President and CEO of Sonomax Technologies Inc. "My only objective now is sales, added Laperle, this CBS Tampa trial should be the beginning of something great for Sonomax.
Kicking off the trial, the Last Damn Show event offers sculpted eers the opportunity to be seen, heard and experienced by tens of thousands of music fans. With a lineup headlined by Drake and featuring national recording artists Plies, Public Enemy, Trina, Travis Porter and Famous Kid Brick the event is already a treat for the ears of music lovers; sculpted eers will enhance the event by providing concert-goers with the opportunity to buy and be fit for their very own pair of c ustom earphones at special sculpted eers fitting stations.
Post-event, concert fans and Tampa area residents can get sculpted eers exclusively at 19 Tampa-area Custom Acoustix Hearing Center locations until Christmas.
Recently named Best Headphones of 2012 at the CES Innovations Awards, sculpted eers custom mold to the unique shape of an individual's ear canal in just four minutes, providing maximum comfort, exceptional sound, and a secure fit even during vigorous activity.
Additionally, the acoustic seal provided by the custom-fit earphones provides an immersive audio experience, regardless of the user's environment.
Custom Headphones for Everyone
Music fans may think that custom headphones are reserved for only professional musicians and require an expensive, lengthy process in a laboratory setting. BUT, sculpted eers custom-fitted earphones redefine the experience, making high performance custom earphones available to everyone, in the comfort of their own home.
With two sound signatures to choose from, sculpted eers custom-fitted earphones offer an option for all audio-lovers. The first uses a single tuned dynamic speaker that delivers enhanced bass response without sacrificing speaker performance. The speaker and bass reflex generate a rich sound with bass enhanced clarity and vivid sound. The second sound signature uses two dual driver balanced armature speakers with crossover that act similar to most home theater systems. The speaker is tuned to provide a flat musicians response allowing users to listen to music as it was recorded.
For more information about sculpted eers custom earphones, please visit http://sculptedeers.com.
About Sonomax Technologies, Inc.
Sonomax® is a leader in the product development, research, and licensing of in-ear technologies. With more than 50 patents and trademarks worldwide, Sonomax's pioneering innovation includes instant custom-fitting earpieces that deliver the most comfortable, protective and sound-enhancing experience in the world, as well as software-driven solutions for validating earpiece performance. Sonomax recently introduced sculpted eers™ line of custom fitting earphones which feature the latest SonoFit™ system. SonoFit™ offers OEM, ODM and aftermarket clients a broader range of opportunities in customized earpieces for the consumer, industrial, military and health markets. Learn more at sonomax.com.
Connect with Sonomax's sculpted eers on Facebook at facebook.com/sculptedEERS and on Twitter at twitter.com/sculptedEERS.
Connect with Sonomax Technologies, Inc. on Facebook at facebook.com/pages/Sonomax/139557122757551 and on Twitter at twitter.com/Sonomax_SHH.
Media Contact
Katie Foley
Senior Account Executive
lotus823
Office: 732.212.0823
Email: katief(at)lotus823(dot)com
###