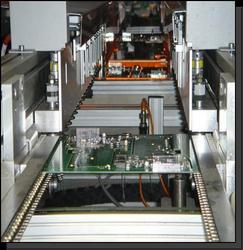 We are thrilled that we are able to expand support for our customers, while at the same time creating an environment to work interactively with our customers.
(PRWEB) January 19, 2010
EE Technologies (EET) of Reno, Nevada, has announced the addition of a high speed Rapid Prototyping line for its plant in Reno, Nevada. This strategic addition will provide existing and new customers with the service they need to develop and introduce new products into the marketplace. EE Technologies will partner with customers to improve design for manufacturability and decrease costs for products in early life cycle stages.
"We are pleased to be able to provide flexibility and responsiveness to our customers," said Dave McDonald, Director of Operations for EE Technologies, headquartered in Reno, NV. "The addition of this line will provide services that will be an extension of our customer's operations. We are thrilled that we are able to expand support for our customers, while at the same time creating an environment to work interactively with our customers." The EET Reno facility is comprised of highly skilled employees who use defined processes and procedures to ensure excellent quality for EET's customers. We appreciate our equipment partners who are instrumental in coordinating a seamless installation. The Rapid Prototyping line includes a fully automated surface mount technology (SMT) line as well as supporting processes and equipment. EE Technologies has purchased a DEK Horizon 03iX screen printing platform, two Assembleon Americas Topaz XII pick and place machines, and a Vitronics XPM2 oven to create this high speed line dedicated to Rapid Prototyping for its customers.
"We are excited to continue to invest in technology that enables us to better serve both our new and existing customer base," adds McDonald. The equipment additions will further expand EE Technologies' capacity, which will be used to serve customers in many growth industries including the gaming, aircraft, military, automotive, scientific equipment and education industries. As markets tighten, EET's customers have an increased demand for high quality products delivered on-time and at the lowest possible cost. This increase in flexibility and capacity is another example of how EET continually strives to exceed its customer's expectations. EET also holds numerous registrations and certifications including TS16949:2002 certification and ISO 9001:2000, which is especially important with ensuring quality projects for all of our customers.
About EE Technologies:
EE Technologies, Inc is a premier Contract Manufacturing partner that provides multiple service levels, ranging from electrical and mechanical / box build assembly through test, procurement, engineering support and consulting services. EET has manufacturing locations in Reno, Nevada and Empalme, Sonora, Mexico.
EET is a recognized leader in circuit board assembly for the automotive, medical, RF/Wireless, gaming, military, scientific, educational, industrial, aviation and digital audio / video markets, as well as RoHS manufacturing and conversion, and design for manufacturing. With constant growth and expansion into other technologies and marketplaces, we welcome inquiries for quote from companies in any industry.
# # #