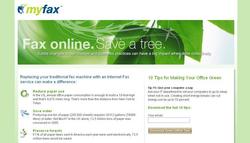 Internet faxing lets people fax without having a fax machine.
Austin, TX (PRWEB) July 2, 2008
Steve Adams can recognize a human voice and can pretty much do everything a fax machine can't. That's apparently the sort of the thing fax users respond to, if MyFax's overall growth in the Internet fax industry over the last year (over 75%) gives any indication. The statistic comes straight from the horse's mouth, in an interview with MyFax's Steve Adams that Zilker Ventures has just released.
What is Internet fax? Is it secure? Just how much better is it than faxing the traditional way? These are just some of the questions that Steve Adams, Vice President of Marketing for Protus, owner of MyFax, had a chance to answer in a recent interview with Gaines Kilpatrick of Austin based company Zilker Ventures.
The interview, which can be found in its entirety on FaxCompare.com, consists of 20 fundamental questions that every existing and future MyFax customer would want answered.
At the outset of the interview, Adams declares the basic tenet behind Internet fax: "Internet faxing lets people fax without having a fax machine." He then goes on to explain the service MyFax provides and all of its possibilities.
"We give all our MyFax customers their own fax number, and it behaves just like a regular fax number; so any faxes that are received there, we receive them. We create them into a PDF document, and we deliver them to our customers via email. Instead of getting blurry papers on your fax machine, you get a nice PDF document in your email," says Adams, who aims to highlight the bridge functionality of the MyFax service.
One of the lengthiest answers in the interview is Adams' response to the security of traditional fax machine transmissions, which he believes offers little privacy protection to fax senders and recipients.
With Internet fax, he says, "faxes go directly to the person who receives them. Rather than having a whole company share fax machine, each individual user has their own fax number, and their documents are delivered directly to their email. And that means that you don't have the risk of other people seeing the document."
The risk that Adams mentions have been a particular concern for people who exchange private, medical, legal or financial information with doctors, lawyers, real estate brokers and others.
In addition to privacy protection, Adams illustrates MyFax's intelligent, voice-recognition technology, which will stop re-calling a phone number upon human voice recognition. For Adams, it is the long-sought answer to the "very irritating scenario when a fax machine keeps calling, which typically happens to me at home in the middle of the night."
Privacy and voice recognition, which, according to Adams, are features that can hardly be provided by "two guys in a basement," are just a couple of the conveniences of MyFax that Adams cites. Others include value pricing ($10 for MyFax versus $40 for traditional fax), mobile functionality and automatic re-delivery.
And who exactly subscribes to the MyFax juggernaut? Everyone from Century 21 and Coldwell banker "down to Sinfully Delicious Truffles, one of our favorite customers, which is a person who makes truffles in her kitchen," says Adams, chuckling.
To read the entire interview or to learn more about Internet fax services, visit FaxCompare.com.
Zilker Ventures, LLC is a web publisher that consolidates information and reviews various business and financial products.
Contact:
Jennifer Silva
Zilker Ventures, LLC
(512) 448-9031
###