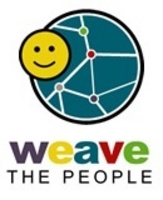 How can we leverage technology to unleash people's potential? How can we ignite group conversations to move companies forward? I have explored these questions for years
Chicago, IL (PRWEB) October 6, 2009
Weave Technology LLC today launched Weave The People, a web-based tool that helps companies unleash the potential of their employees through more effective meetings.
"How can we leverage technology to unleash people's potential? How can we ignite group conversations to move companies forward? I have explored these questions for years," said Weave Technology LLC Technology Founder and CEO Paul Caswell. "Fascinated by technology and frustrated with many corporate meetings, I decided to create Weave The People--a simple tool to make face-to-face meetings more effective. In these tough times, we are challenged to make every employee count and that's what Weave The People is here to do."
Companies that host face-to-face meetings already know the power of their people. Weave The People maximizes investment in such events, replacing the randomness of networking with purpose-driven conversations. To make this happen, WTP asks meeting attendees questions to spark innovation and foster alignment. The web-based tool then aggregates and displays people's answers visually.
As such, Weave The People helps companies guide conversations before, during and after group meetings. People walk away with new business partners, best practices and a web-based Weave to keep the conversation going.
"There is no doubt in my mind that Weave The People helped us have the most successful meeting possible because people were energized and informed on each others' passions even before the meeting began," said Scott Graf, president of BCD Meetings and Incentives, part of BCD Travel, a global company with $14 billion in sales.
Weave The People is a critical business technology for professionals in human resources (HR), training and development, corporate communications, internal communications and other executives interested in engaging employees, hosting effective meetings, and improving business performance. Weave The People is ideal for corporate events of up to 150 people, team building, executive retreats, sales meetings, or corporate meetings after a merger or acquisition.
Weave The People is a business tool designed to help employees achieve greatness. While the ambition is big, the process is simple:

Weave The People works with a company to identify meeting objectives and the types of questions that will entice conversations about important, compelling topics.
Employees fill out a short survey and provide a photo.
Weave The People builds a Weave--a visual, interactive display--grouping people by, for example, talents and passions, expertise, business goals and opportunities.
Attendees view the Weave on the web prior to the event. This gives people the insights and knowledge needed to connect at the event, which results in stronger relationships and greater collaboration after the event.
"If you are planning to bring people together, then you already know that great things, and even brilliance, can happen during face-to-face encounters," Caswell said. "But why have a face-to-face meeting if you don't have a tool to maximize those connections? Weave The People is that tool."
About Weave Technology LLC
Chicago-based Weave Technology LLC was founded in 2008 by Paul Caswell, a U.K.-born technology inventor who now calls Chicago home. The October 2009 launch of Weave The People, Weave Technology's first product, is the culmination of five years of technology development, immersion in Chicago's tech community, and feedback from companies that served as early adopters. Weave The People helps companies unleash the potential of their employees through more effective, face-to-face meetings. For more information, visit http://www.weavethepeople.com. Follow Paul Caswell on twitter @paulcaswell.
###