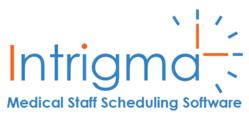 Intrigma's Patient Volume Planner helps us optimize schedules at four of our departments to maximize productivity, which results in better service for our patients -Dr. Joseph Guarisco
Stony Brook, N.Y (PRWEB) July 24, 2012
Intrigma Inc., a leader in cloud scheduling software for hospitals, announced that its new Patient Volume Planner tool is now in use by the Department of Emergency Medicine at Ochsner Health System, New Orleans, Louisiana, further improving the department's patient flow capabilities.
The Patient Volume Planner will be offered starting this month as a new optional feature in Intrigma Scheduler; a cloud software tool specialized for clinical staff scheduling. The Patient Volume Planner allows hospital departments to produce schedules that better match staff productivity (number of patients that can be seen per hour) with expected patient volume. The Department of Emergency Medicine at Ochsner Health System, which is recognized for excellence in the field of efficient patient flow, has been using Intrigma's solution for over two years and is now using the new Patient Volume Planner to further improve patient throughput.
Short wait times, clinical productivity and efficient patient throughput are taken very seriously at Ochsner. In fact, the Department of Emergency Medicine at Ochsner was rated by HealthGrades, a medical rating firm, at the top 5% in the country for three years in a row, which is unprecedented for any emergency department.
Dr. Joseph Guarisco, System Chair of Emergency Services at Ochsner, credits a part of this success to the utilization of a workflow that he and his team developed at Ochsner called qTrack. "Intrigma's Patient Volume Planner helps us optimize schedules at four of our departments to maximize productivity, which results in better service for our patients. By providing optimal staffing to match patient demand, Intrigma's solution facilitates a foundation for our workflow. This combination greatly improves operational efficiency, increases throughput and reduces Left Without Been Seen (LWBS) rates," said Dr. Guarisco.
LWBS refers to patients that visit emergency departments, which are often overcrowded, but leave before being seen by a clinician due to long wait times. This results in lower patient satisfaction ratings and lost revenues for the hospital. Press Ganey, the largest patient satisfaction rating firm in the US, reported in 2010 that an LWBS rate of 6.8% can equate to $1 million in lost revenue.
"In order to deliver good quality care at a lower cost and maintain high patient satisfaction, it is crucial to minimize lost net revenues due to LWBS events," added Dr. Guarisco. "The potential savings vary based on the annual patient visits to the department and our analysis shows that for an emergency department with 50,000 annual patient visits, a LWBS rate of 1% equates to approximately $450,000 in lost net revenues."
The task of matching the number of patients that arrive each hour (patient demand), with the number of patients that can actually be seen each hour (productivity) is non-trivial. A medical team's productivity is affected not only by the number of working clinicians, but also by the speed of each clinician (some clinicians can see more patients per hour than others), the team's skill mix (the number of physicians, nurses, physician assistants and techs), the number of available beds, and even the physical size of the department the medical team operates in. Intrigma's solution allows optimizing a schedule around these parameters while considering the individual clinicians' work preferences, so as to keep staff motivated and avoid burnout.
Intrigma's CEO Tal Eidelberg said, "This is a very important piece of the efficiency puzzle that will help streamline our national healthcare system. With the ability to match supply and demand of medical services, hospitals will be better able to deliver quality care at a lower cost."
About Dr. Guarisco and the Ochsner Health System Department of Emergency Medicine:
Joseph Guarisco, MD, FACEP, FAAEM, is the System Chair of Emergency Services at Ochsner Health System. Guarisco is also the national Chairman of The American Academy of Emergency Medicine Operations Management Committee. Dr. Guarisco has been recognized by Press Ganey for innovative use of data and process design in improving patient satisfaction at Ochsner and is the winner of the Press Ganey 2005 National Success Story Award. The Department of Emergency Medicine at Ochsner Health System was rated by HealthGrades top 5% in the country for three years in a row -- an achievement unique to Ochsner. The Ochsner Health System is southeast Louisiana's largest non-profit, academic, multi-specialty, healthcare delivery system with eight hospitals and over 38 health centers in Louisiana.
About Intrigma Scheduler:
Intrigma Inc. (http://intrigma.com), a fast-growing software technology firm that was founded in 2004, is a thought and innovation leader in the field of medical staff scheduling. Its flagship product, Intrigma Scheduler, is a cloud-based scheduling application used by healthcare systems, medical centers, community hospitals and physician practice management firms across the US and internationally. Intrigma's solutions are unique in their ability to simplify complicated scheduling workflows with a keen focus on increasing quality of care and reducing the costs of client hospitals
For more information about Intrigma please contact:
Matt Flewelling
Matt(at)intrigma(dot)com
631-590-1625