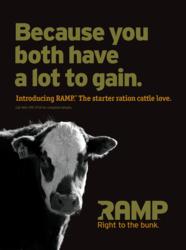 It's a great time at Bailey Lauerman: we're competing on a national stage and redefining our peer set one campaign at a time.
(PRWEB) June 08, 2011
Bailey Lauerman's Right to the Bunk campaign produced for Cargill Corn Milling has received a Silver North American Effie Award. This is Bailey Lauerman's second Effie Award in as many years. In addition to the Effie, the agency has received more than 20 national awards for design, digital, and business-to-business marketing during the first six months of the year.
"It's a great time at Bailey Lauerman: we're competing on a national stage and redefining our peer set one campaign at a time," said Carter Weitz, president and chief creative officer. "The past year's success is indicative of strong client partnerships."
THE EFFIE WINNING CAMPAIGN
The RAMP Right to the Bunk campaign helped launch Cargill's newest starter-feed for cattle. The name RAMP connotes a young cattle's positive transition to the feed yard—a process that could often be stressful for cattle and feed yard managers.
The product logo matches the green color of the product, and the tagline—Right to the Bunk—heralds cattle's love of RAMP.
Bailey Lauerman and Cargill identified the Plains Nutrition Conference in San Antonio, Texas, as the launch event for RAMP. Guests were exposed to RAMP messaging from the moment they arrived at San Antonio International Airport throughout paid media, to their entire hotel experience, including a RAMP sponsored cocktail reception.
After the conference, Bailey Lauerman launched a campaign that targeted the most heavily trafficked areas by feed yard managers and nutritionists. Outdoor boards, airport signage, branded trucks, and trade print advertisements saturated the Texas panhandle.
The result: Cargill tripled their target volume and sales objectives, and signed the one of the largest cattle feeding enterprises in the world.
"Right to the Bunk is more than an award-winning campaign," shared Chad Conard, Cargill Corn Milling's business development manager responsible for RAMP. "The RAMP launch has gone down in Cargill Corn Milling's history as one of the most successful product launches. Within 30 days, everyone we needed to know about RAMP, knew about it and was calling for more information."
WEB MARKETERS ASSOCIATION INTERNET ADVERTISING COMPETITION AWARDS
The Web Marketers Association recently honored Bailey Lauerman with four Internet Advertising Competition awards for best-in-industry websites and a rich media campaign.
The four awards are:

BUSINESS MARKETERS ASSOCIATION ACE AWARDS
Campaigns for Cessna Aircraft and Union Pacific received multiple ACE Awards from the Business Marketers Association in New York City earlier this year.
Cessna's The Ten campaign received:

Best $250,000 - $1M Campaign
Best Trade Show and Conference Integrated Campaign
Best Website and Microsite
Cessna was recognized as a finalist in mobile marketing and collateral categories.
Bailey Lauerman's work for Union Pacific's You'll Find Us campaign was also recognized as a finalist in the print advertising single-ad campaign category.
__
ABOUT BAILEY LAUERMAN
Bailey Lauerman is a nationally recognized, independent marketing communications firm with offices in Lincoln and Omaha, Neb. Its staff of creative and communications professionals supports some of America's leading brands and companies including ABC World News, Disney, Cessna Aircraft, Pepsi, Honeywell Aerospace, ConAgra Foods, TD Ameritrade and Union Pacific. Bailey Lauerman's work is consistently recognized in national creative competitions including the Effie Awards, Communication Arts, The One Show, Graphis, the Clio Awards, the ADDY Awards and the O'Toole Awards.
###