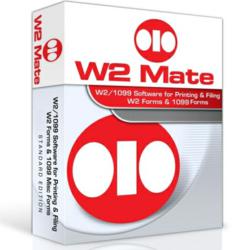 We are happy to offer this powerful 1099 E-File module to the business and tax professionals community because it will greatly reduce time and effort for electronic 1099 compliance.
Chicago, IL (PRWEB) January 26, 2012
Real Business Solutions (http://www.Realtaxtools.com) is proud to present the 2011 1099 E-File module available inside its W2 Mate software. The filing program gives business filers and tax practitioners all the features they need to file 1099s electronically with the IRS FIRE System. W2 Mate supports tax forms 1099-MISC, 1099-INT, 1099-DIV, 1099-R, 1099-S, 1098-T, 1098, 1099-A, 1099-B, 1099-C, 1099-PATR, 1099-OID and W-2.
W2 Mate meets the 1099 electronic filing requirements of the Internal Revenue Service and a number of state departments of revenue by proving the ability to generate files in the IRS 1099 electronic filing format. The W2 1099 software also fully supports the EFW2 format for e-filing W2's with the Social Security Administration and states that accept EFW2 submissions. For interested QuickBooks users, a free 1099 software demo can be downloaded by visiting the W2 Mate product page.
There are a number of changes to the 2011 Electronic Filing formats for both 1099s and W-2s, so filers will have to use W2 Mate 2011 to process 2011 forms. The electronic filing deadline for both 1099s and W2s is Monday April 2, 2012.
The IRS FIRE (Filing Information Returns Electronically) system is set up for financial institutions and others to file Information Return Forms 1042-S, 1097, 1098, 1099, 3921, 3922, 5498, 8027, 8935, or W-2G. An Information Return is a tax document required by Internal Revenue Code regulations and is used to report certain types of payments made by financial institutions and others who make payments as a part of their trade or business. The IRS describes electronic filing as "The hottest way to file your Information Returns with the coolest results."
W2 Mate can e-file the following IRS and SSA Forms:

1099 MISC Forms: Miscellaneous Income
1099-INT Forms : Interest Income
1099-DIV Forms : Dividends and Distributions
1099-R Forms : Distributions From Pensions, Annuities, Retirement, etc.
1098-T Forms : Tuition Statement.
1096 Forms : Annual Summary and Transmittal of U.S. Information Returns.
W2 Forms : Wage and Tax Statement.
W3 Forms : Transmittal of Wage and Tax Statements.
1099-B Forms : Proceeds From Broker and Barter Exchange Transactions.
1099-PATR Forms : Taxable Distributions Received From Cooperatives.
1099-OID Forms : Original Issue Discount.
1099-S Forms: Proceeds From Real Estate Transactions.
1098 Forms : Mortgage Interest Statement.
1099-A Forms : Acquisition or Abandonment of Secured Property.
1099-C Forms : Cancellation of Debt.
W2 Mate software highlights:
W2 EFile support (Complies with SSA EFW2 format Specifications for Filing Forms W-2 Electronically)
1099 EFile support (Complies with IRS Publication 1220- Specifications for Filing Form 1099 Electronically)
Generates ready-to-email w2 forms and 1099 forms. Which eliminates the need to print and email W2s and 1099s.
For paper filers 1096 and W3 are automatically generated.
Unlimited W2 forms and 1099 forms.
SSA approved to print W2 & W3 forms on regular white paper, which eliminates the need for expensive forms.
Network ready with affordable pricing for multiple seats.
W2 and 1099 data checking and validation.
Prints on pre-printed 1099 forms & W2 Forms.
Prints 1099 Form Copies & W2 Copies on blank paper.
Direct data import for QuickBooks 1099 forms and QuickBooks W2 forms.
W2 1099 data import from CSV file.
Exports W2s and 1099s to excel.
Free electronic 1099 processing software demo can be downloaded by visiting http://www.W2Mate.com.
###