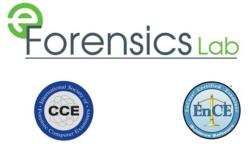 eForensics Lab processes take advantage of the latest technological advancements in the area of eDiscovery, computer forensics and cloud computing to offer reliable services and control litigation cost.
Washington, DC (PRWEB) February 16, 2013
The eForensics Lab team is pleased to announce the opening of its new computer forensics and eDiscovery facility. eForensics Lab's state-of-the-art highly secured facility utilizes the latest developments in hardware and software to provide our clients with complete, end-to-end e-Discovery solutions.
Synergized by our defensible process and streamlined project management approach, our certified engineers and highly experienced project managers provide scalable, flexible and cost effective solutions.
eForeniscs Lab is a one stop solution provider for all your computer forensics and eDiscovery needs including:

Information Management
Identification
Data Collections
Early Case Assessment
Computer Forensics Examinations
Mobile Forensics
Electronic Data Processing
Data Analytics
Online Review
Assisted review
Production
Hard Drive Recovery
Paper Discovery
About eForensics Lab
eForensics LAB is a consulting and service company that provides legal technology services and business solutions primarily to law firms, corporate legal departments, financial and accounting firms. We are single source for integrated solutions, maximizing productivity and easing the challenges of information access, control and dissemination. We continually evolve our solutions with the needs of leading law firms and corporations that rely on us as their service partner.
eForensics Lab's mission is to successfully identify our clients' needs and creatively tailor innovative custom solutions and strategies to fit those needs.
Our team is very responsive regardless of the project size. Our focus is on personalized services, quality and cost reduction.
Certifications: EnCase Certified Examiner (EnCE), Certified Computer Examiner (CCE), Clearwell Certified Administrator (CCA)
Contact Information:
2001 Pennsylvania Avenue, NW Concourse Level Washington, DC 20006
Email: info(at)eforensicslab(dot)com
Phone: 202-643-3462
Web: http://www.eForensicsLab.com