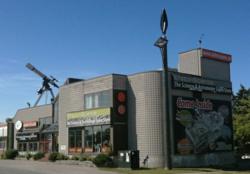 We believe this is a natural evolution for EfstonScience.
Toronto, Ontario (PRWEB) July 10, 2012
EfstonScience has announced plans to close its Science & Astronomy SuperStore located at 3350 Dufferin Street in Toronto, while continuing the operation of its ecommerce store only. In preparation for this transition, EfstonScience has announced an Inventory Clearance Sale with all items in store and many online marked down at least 15% using promo code "MOVING", while clearance items are marked down to 40% off. Discounts will increase as the sale progresses, though stock is limited.
"We believe this is a natural evolution for EfstonScience," said Irene Efston, owner of EfstonScience. "We've been Canada's leading retailer of scientific, unique and innovative products since 1970, originally a direct mail catalog company and exclusive Canadian distributor of Edmund Scientific products. Over the years we have adapted and evolved and never lost sight of our founder's vision: To provide innovative, leading edge, quality products that make life better for individuals and the planet."
In the last three years, the company changed its focus to solar installations and renewables, thus prompting the decision to close the retail storefront and move the Science & Astronomy store exclusively online to their site at http://www.eScience.ca. Their renewable energy division, eSolar.ca, explains how they design and install complete turnkey installations of complete off-grid and grid-tied solar power systems, wind power systems and hybrid energy systems, which are eligible for Ontario's MicroFIT and FIT subsidies. EfstonScience also recently introduced Enlighten Hybrid Systems, solar and wind powered LED streetlights for use on roadways, trails, in parking lots, and parks complete with remote monitoring and options to include equipment to create off-grid WiFi hotspots and top quality surveillance cameras.
"We're currently organizing and transitioning our science and astronomy equipment inventory to our ecommerce website -- it's a major effort which will take us some time so we ask for our customers' patience while we get everything set up," said Efston. "In the meantime, come by the store right after the Canada Day weekend where you'll find some great deals! Everything will be marked down including many of our in-stock telescopes practically at cost."
Located across the Yorkdale Mall for over 40 years, EfstonScience, the Science & Astronomy SuperStore is considered a Toronto landmark due to the giant telescope that sits atop the building. The store is expected to close in the Fall, although an exact date has yet to be determined.
About EfstonScience
Family owned since 1970, EfstonScience is Canada's largest retailer of scientific products. Its Toronto superstore at 3350 Dufferin Street is packed with thousands of hard-to-find consumer and industrial science products and has the largest hands-on display of telescopes in North America. EfstonScience also offers more than 10,000 scientific products, kits, supplies and unique gift ideas at its eScience.ca website.
The eSolar.ca division of EfstonScience designs and installs complete off-grid and grid-tied solar power systems, wind power systems and hybrid energy systems that are eligible for Ontario's new MicroFIT and FIT subsidies. Our experienced team offers comprehensive turnkey service that covers everything from system design, permits and applications to installation, monitoring and support. For more information contact info(at)esolar(dot)ca.
Enlighten Hybrid offers hybrid solar/wind off-grid streetlight solutions with commercial and public applications. For more information about Enlighten Products email smart(at)enlightenhybrid(dot)com.