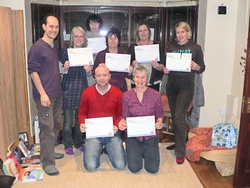 "EFT is powerful. I left the one day course feeling totally inspired and motivated with a whole host of skills and tools to use in everyday life". Janey Lee Grace, radio 2 presenter and author.
(PRWEB) June 26, 2010
For so long people have been looking for quick solutions for their stress, anxiety, depression, anger and other negative emotional states. Large numbers of people are using pharmaceutical and recreational drugs, and even mild addictive substances such as tobacco, alcohol and chocolate to cover up deeper anxieties. Others use food to fill a deeper state of emptiness. The problem with turning to these methods of unconscious stress relief is that they are purely symptomatic. Underlying patterns remain firmly in place and will continue to drive behaviour.
All this is now set to change with the use of a remarkable method known as Emotional Freedom techniques (EFT), also sometimes known as Tapping. It involves tapping a small set of acupuncture points whilst focussing on an upsetting feeling or memory, and the effects are often dramatic. People are finding the negative emotions associated with past traumas suddenly dissolving in front of their eyes. Others are focussing on physical pain whilst tapping and finding that too is dissolving, sometimes permanently. In fact well-known British Hypnotist Paul McKenna is using the "Tapping Technique" in his work to help people in the fields of stress, weight loss and phobias, and it has been deployed in Rwanda and Kosovo to great effect treating Post-Traumatic Stress Disorder (PTSD).
It all started back in the 1980's when clinical psychologist Roger Callahan was working with a lady with a very severe water phobia. She worked with various therapists for 6 years with negligible improvement. One day Roger noticed that she felt the anxiety in her stomach and suggested she tap gently under her eye – the location of the start of the stomach acupuncture meridian. She did this and the whole phobia disappeared in a matter of minutes. It was a revelation and lead to the development of a new treatment called Thought Field Therapy (TFT). This, in turn, lead to a whole set of spin-off techniques, all of which used this technique of "Tapping" to release negative emotional states in time scales that were unheard of. EFT (Emotional Freedom Techniques) was one of those, that was particularly easy to learn – even for children.
Hertfordshire-based therapist Peter Donn first came across this technique back in 2003 when he was working as a software developer. He had been the creative mind behind a software product, and his managers were looking to buy the product from the company and create a new start-up – without including him. He says: "I felt so angry, so much injustice. And for two days it didn't go away. A friend told me about EFT and I had a session the next day. The anger and all the other negative feelings completely dissolved. It was such a relief. Despite my calmness I still knew what they were doing was unreasonable, and I took appropriate action. However, more than that I had discovered an extraordinary technique which had such a rapid effect on emotional states. It was a eureka moment and I knew I wanted to share it with others".
Peter subsequently trained in both EFT and TFT and started treating people professionally. "People were coming to me having had counselling or psychotherapy for a lifetime and experiencing little significant shift", he said. "Yet after a few sessions of EFT they were experiencing major changes in their emotional states and seeing life differently".
Despite practitioners and individuals getting significant results on a daily basis, mainstream health providers are yet to adopt EFT widely. Biologist Dawson Church (author of "The Genie in Your Genes") has spearheaded a drive to prove its effectiveness on a large variety of conditions, both emotional and physical. Initial results are very promising. One piece of research on the use of TFT with PTSD showed it to be significantly more effective than Cognitive Behaviour Therapy (CBT) – the NHS's current treatment-of-choice for PTSD. A summary of research to date can be found here.
Not satisfied with working only one-to-one, Peter then started offering one-day EFT workshops in Hertfordshire, UK, together with his practitioner wife Tamara Donn, UK, teaching lay people and professionals alike. "Amazingly, in one day you can learn all the basics", he says. " Literally, in that day, people can learn effectively to start releasing traumas, fears, anger and other issues, as well as learn to use it to help physicals issues. It's not effective for all people all of the time, but the majority respond very well. In the last workshop in June 2010, most of the participants experienced close to a 100% release in a specific trauma they were working on. And we had roughly an average 50% drop in pain levels when we were working on physical issues – including back and neck pain and headaches. The biggest problem people have is accepting that it works as well as it does. They say "It is just too easy"!"
Radio 2 co-presenter (with Steve Wright) and author Janey Lee Grace attended the EFT Level 1 workshop in February and was amazed. As she writes in her blog "EFT is powerful, I left the one day course feeling totally inspired and motivated with a whole host of skills and tools to use in everyday life". At this same workshop, she had worked with a lady who hated eating and had never eaten at the table with others. This cleared within 30 minutes. A month later she said she hadn't stopped eating and was able to eat with others now. She also said an OCD-style obsession with germs had also strangely disappeared!
At a workshop in March 2010 Peter was doing a trauma release demo on one lady. As the trauma lifted she suddenly said "My back pain's gone"! She explained that she had had 18 years of back pain and needed a painkiller every day. A week later she told me she hadn't needed a painkiller since, and the pain was still gone. Another participant at this workshop said 12 years of back and neck stiffness had disappeared (and remained gone three months later).
EFT can be integrated into any niche area of interest. Tamara's interest in the field of birth and pregnancy resulted in the offering of the UK's first EFT training for Birth Professionals, where the participants experienced their new skills helping pregnant women release fears and past traumas. "It was truly empowering to be able to help so deeply", remarked one Hertfordshire-based midwife. Tamara also runs other empowering workshops for women. See her site http://www.womantomother.co.uk.
Tamara and Peter's company EFT Training Herts is now expanding to run workshops in central London and abroad. The next workshop in London is on Friday 3rd September and in Hertfordshire on Friday 2nd Juloy 2010. They are also running a one-week EFT training holiday in Turkey in October 2010 where you get to go beyond the basics. He says: "It will be a roughly 50:50 mix between holiday and training, with plenty of practical experience, lots of personal healing, and you will take back a technique you can use for the rest of your life". To book go to their web site below or call 01923 260 050. Individuals can additionally train to become EFT practitioners.
EFT Training Herts is pleased to offer a free EFT Tapping Manual to readers on their web site so they can try out the technique for themselves.
As well as offering workshops, one-to-one sessions are available in London, Hertfordshire or by phone or Skype all over the world.
For further information on consultations and workshops see http://www.london-eft.co.uk. Tamara has her own site: http://www.eftforwomen.co.uk. You can also see their Facebook fan page.
# # #