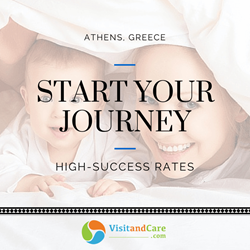 It's exceptionally promising to partner with a company who shares similar goals. Every day our goal is to improve our patients' experience through affordable medical treatment and proven results.
Boston, MA (PRWEB) June 09, 2015
Serum IVF Clinic is recognized for providing intended parents with a wide array of high quality fertility options. The fertility center is proud to offer future parents the most prominent egg donation program in Greece to maximize the chances of a successful IVF cycle — with success rates over 58 percent. Their expertise in egg donation has helped thousands of couples in more than 20 countries to become delighted and blissful new parents.
Created by expert fertility specialists who are on a mission to pioneer uncharted trends in the fertility industry, the prominent Serum IVF team has set bold new heights in reproductive medicine with its enduring success.
"You will not feel that you are just another number or another statistic, you will feel like our own family," stated Executives at the Serum IVF Clinic.
Fertility Treatment in Athens —
Uniting with a top medical tourism agency, Serum IVF continues to be a leader in infertility treatment. The team of IVF doctors in Athens brings the latest advances in IVF and reproductive care — and has a live birth rate significantly higher compared to the national average.
The clinic specializes in the treatment of infertility, including assisted reproductive technologies (ART) such as intrauterine insemination (IUI), in-vitro fertilization (IVF), egg donation, sperm donation, tandem IVF cycle, and embryo freezing, among others.
"Our goal is to partner with IVF clinics who are committed to helping patients maximize their reproductive health and ultimately achieve their fertility goals. Serum IVF has created a successful fertility program with a unique combination of science and compassion," states Tolga Umar, CEO and Founder of VisitandCare.com. "It's exceptionally promising to partner with a company who shares similar goals. Every day our goal is to improve our patients' experience through affordable medical treatment and proven results."
Egg Donation in Greece —
Greece's leading egg donation program has reliably had one of the top pregnancy success rates for IVF egg donation in the world. The donor egg program gives intended parents an enormous group of carefully selected egg donors without being put on a waiting list. The VisitandCare.com fertility provider takes great pride in a wide donor pool of magnificent, gorgeous, proven young donors aged 18-30, originally from Greece, Poland, Ukraine and other countries.
As required by the Greek law and in compliance with the HFEA guidelines, donors must undergo physical examination, tests for sexually transmitted diseases (AIDS, Hepatitis B and C, syphilis, gonorrhea, etc.), as well as genetic screening to exclude the possibility of inheritable diseases.
IVF using donor egg in Athens successfully treats women who are carriers of genetic diseases, women who have had multiple failed cycles of IVF, women with impaired ovarian function, or healthy older women. Specifically, donor egg IVF treatment also heightens the chance of pregnancy for women whose attempts at IVF have revealed a poor response to fertility medications or whose eggs did not fertilize well or form viable embryos.
About VisitandCare.com
VisitandCare.com was created to give individuals worldwide valued direction locating a doctor, obtain free medical treatment quotes, and uncover affordable medical treatments at destinations of their choice. Improving Patients Lives |The company provides access to exclusive doctors and hospitals who specialize in infertility, plastic surgery, cosmetic dentistry, laser eye surgery, orthopedic surgery, hair transplantation, weight loss surgery, heart surgery and cancer care. Patients are matched with devoted multilingual patient facilitators and provided tangible connections to doctors worldwide. Promoting Your Healthcare Brand | For the ultimate connection between the healthcare industry and patients worldwide, the company delivers an unrivaled commitment to create sustained value for medical partners. Contact VisitandCare.com to see if you are eligible to become a partner of our exclusive network.