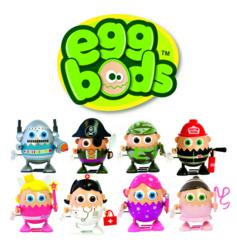 EggBods are this year's must have Easter gifts.
Denver, CO (Vocus/PRWEB) April 11, 2011
Bluw Toys has recently released EggBods, their brand new mix 'n' match collectibles, just in time for Easter!
EggBods are this year's must have Easter gifts. The collection of eight mix 'n' match egg-characters includes the feared pirate, Captain Hard Boiled, the dancing sensation, Eggalina Ballerina, the heroic Fireman Scramble and more. These quirky, wind up characters are young and funky Easter gift ideas for both children and adults.
Each EggBod winds up for endless hours of entertainment and includes interchangeable parts (head, arms, and accessories) so kids can use their imagination to create their very own EggBods character. For example, Nurse Eggwhite's head can be placed on Tinkershell's body to create 'Nurse Tinkershell.'
Adults will also 'crack up' when they receive an EggBod character that matches their alter 'egg-o's' personality. Eggs Factor, the star singer, is the perfect Easter gift idea for anyone with Hollywood dreams while Crack Commando is a fun way to honor a fearless soldier. Any caretaker will appreciate Nurse Eggwhite, as she's always ready to make ill EggBods feel fantastic again.
Retailing at just $5.99 each, EggBods are a funny, versatile, and affordable Easter gift idea. To purchase EggBods from their home on Planet Egg today, visit http://www.eggbods.com/eggbods.lhtml.
About Bluw
Bluw specializes in creating groundbreaking toy brands packed with character. Bluw's other enterprises include the inflatable dress-up brand, AirHedz, and the music toys brand, Mini Rock. Formed in February 2005, Bluw has enjoyed tremendous success in the past three years with a growth rate of over 100% year on year. For more information on Bluw Inc., and its roster of products, please visit: http://www.bluw.com.
Media Contact
Alecia J. Shaver
Account Executive
lotus823
Office: 732.212.0823
Email: alecias(at)lotus823(dot)com
# # #