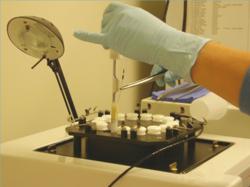 Women in their late 30's and beyond, possess eggs which are less likely to form healthy, robust embryos which in turn leads to lower pregnancy rates, an increase in the rate of birth defects, and a greater risk of miscarriage.
Orange County, CA (PRWEB) November 30, 2012
Unanticipated life events can threaten a woman's reproduction; cancer at a young age, career demands, single marital status, or a depleted ovarian function can all endanger a woman's fertility potential. The physical properties that make an egg fertile during youth can now be preserved by egg freezing until such a time when the woman is ready for motherhood.
The cost concerns were at times a barrier for women in their early 30's to proceed with egg freezing. The holiday special pricing for egg freezing is offered at $4,900 (normally $9,257) excluding testing, medication and storage fees. Egg freezing is now more affordable for many women. At FEB, there have been cases where the employers paid for egg freezing for their employees and parents have paid for egg freezing for their daughters.
The mission of Frozen Egg Bank, Inc. (FEB) has been to develop efficient egg freezing techniques that lead to successful live births. The month of October will always be memorable for FEB. Dr. Diaz recalls, "In October 2012, the American Society for Reproductive Medicine (ASRM) removed the "experimental" label from human egg freezing. In October 2005, FEB witnessed the birth of the first frozen egg baby, Cadyn Elizabeth, now a bright and beautiful 7 year old child. In October 2011, Frozen Egg Bank, Inc. was honored to host the world's first baby reunion of 70 children born from frozen eggs through our program. This landmark event was held to recognize the pioneering parents who placed their confidence in FEB's program."
THE SAFETY OF EGG FREEZING
The safety of FEB's freezing solutions was demonstrated by undertaking a study visualizing the DNA in the egg's chromosomes and the egg's meiotic spindle apparatus. These are critical structure in the egg responsible for normal cell division. This provided important evidence that ice crystal formation did not develop in frozen eggs with the protective effects of FEB's programmed freezing solutions. Furthermore, there was no damage using the concentrations of chemicals found in FEB's freezing and thawing solutions. A study presented at the ASRM meeting October 24, 2012 showed the freezing and thawing technique used by FEB has a greater efficiency than the vitrification technique among all egg banks sampled in the study.
THE BENEFITS OF EGG FREEZING
1) Young women less than 38 years old who need to store their healthy eggs until they're able to start a family. Physician assistant, Yvonne, expressed, "Being a 34 year old professional female, I have thought about egg freezing for 2 years. I did not want my biological clock to dictate when I should get married and have children. After reading about Dr. Diaz and all the great work he has done, I decided to proceed with egg freezing."
2) Women undergoing In-Vitro Fertilization (IVF) who prefer to freeze surplus eggs instead of embryos for ethical reasons. After undergoing IVF, Stephanie and Rob chose to freeze surplus eggs instead of embryos. As needed later, the eggs are thawed and fertilized to create embryos that are then transferred to the uterus for a pregnancy attempt. Unlike an embryo, the egg is a single unfertilized cell, which for some individuals, may be simpler to discard when no longer needed. More and more patients are favoring this option that avoids some of the ethical dilemmas surrounding frozen surplus embryos.
3) Women with depleted ovarian function wishing to achieve pregnancy with frozen donor eggs. By freezing the eggs of donors, patients with premature menopause and ovarian dysfunction can conveniently and easily procure the frozen eggs for their own use to establish a pregnancy. Frozen eggs can also eliminate the uncertainties and pitfalls often associated with obtaining fresh donor eggs.
4) Young women newly diagnosed with cancer wishing to avoid damage to their eggs before cancer treatments. Cancer survivor, Lindsay Beck said, "Freezing my eggs allowed me to preserve my fertility and my reproductive autonomy, both of which were important to me. It was also incredibly hopeful to actively plan for the future – the idea of being a parent one day gave me a reason to fight."
Frozen Egg Bank, Inc. is the premier facility in the United States dedicated to the freezing and distribution of donor eggs and electively freezing the eggs of women wishing to preserve their fertility. Founder, David Diaz, MD, FACOG is a Harvard trained reproductive endocrinologist and fertility specialist certified by the American Board of OB/GYN. He is the medical director of both FEB and West Coast Fertility Centers. Dr. Diaz has successfully treated infertile patients from around the world as well as thousands of California residents.
Frozen Egg Bank, Inc.
714-513-1399
11160 Warner Ave., Suite 411, Fountain Valley, California