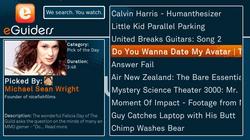 We see people discovering new entertainment from two sources - friends and tastemakers. Whether those tastemakers are experts in the space or celebrities, eGuiders does a great job allowing them to share their favorite entertainment with people
New York, NY (PRWEB) August 28, 2009
Boxee (boxee.tv) and eGuiders, LLC (eGuiders.com) today announced the launch of a custom app for Boxee and their community of 600k users. Boxee is the easiest way for web content providers to bring their video into an interface optimized for a TV and remote. The new partnership brings eGuiders' innovative online video curation service to the living room and makes it easy to enjoy videos from the couch.
The eGuiders' Boxee App features video content from YouTube, Vimeo, Daily Motion, Crackle and other video sharing sites, curated by a team of "eGuiders," media mavens who handpick and review the most interesting and entertaining online videos. In addition to the core team of eGuiders' which is made up of an array of traditional and new media professionals from filmmakers and producers to editors and designers--the community also features notable guest eGuiders, including John Landis (Animal House), Jerry Stiller & Anne Meara (King of Queens), Damon Lindelof (Lost), Willie Garson (Sex and the City), Margo Alder (NPR's All Things Considered) and Shawn Ryan (The Shield, The Unit), among many others. The Boxee App allows users to watch a variety of entertainment organized by genre including Animation, Comedy, Drama & Genre, Documentary/Non-Fiction, Music, and Viral as well as the 'Pick of the Day'.
The eGuiders' Boxee App has a clean design, is easy to navigate and content is updated daily.
"We see people discovering new entertainment from two sources - friends and tastemakers. Whether those tastemakers are experts in the space or celebrities, eGuiders does a great job allowing them to share their favorite entertainment with people," said Avner Ronen, CEO & co-founder of Boxee. "They're a great complement to Boxee and we're excited to bring their videos to our users."
"eGuiders is a natural fit with Boxee and we are thrilled to be featured on their platform. We believe our custom app makes online video discovery quick and easy for Boxee users and helps add value to the community," said Marc Ostrick, CEO & Co-Founder of eGuiders.com.
The eGuiders' Boxee App is one of several recent new market and product initiatives by eGuiders to provide compelling content to digital publishers who specialize in delivering video in unique formats and on new platforms to their users, including the Tribune Media Services syndication partnership for the eGuiders Curated Video App (tmsbranded.com).
About eGuiders, LLC
eGuiders, LLC (http://www.eguiders.com) is a unique online video portal that discovers and reviews the best original online content through a team of trusted, credible voices in the media industry including producers, executives, editors and designers. eGuiders is a privately held company founded in 2008 by award-winning filmmaker and online pioneer Marc Ostrick and Columbia University professor and film producer Evangeline Morphos. David Milch, multiple Emmy® Award-winning television series creator and writer, and Entertainment and digital industry veteran Adam Klein, former President and COO of Ask Jeeves, Inc., serve as principal advisors to the company. eGuiders' goal is to help Internet users cut through the clutter and stop searching for the best original online
videos and start watching them.
About Boxee
Boxee is the first "social" media center, whose free, downloadable software is changing the way consumers experience home entertainment. On a computer or connected to an HDTV, boxee gives users a simple way to bring all their entertainment into one place including personal movies, TV shows, music and photos, as well as streaming content from websites like Netflix, MLB.TV, Comedy Central, Pandora, Last.fm, and flickr. Users can also share information about what they're watching so friends can enjoy it too through legal sources online. More than half a million people use Boxee to get their entertainment. Learn how you can join them at http://www.boxee.tv.
###