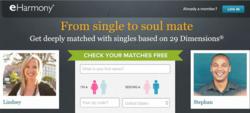 Both eHarmony and Match have over 20 million members.
Portland, Oregon (PRWEB) January 07, 2013
Through extensive research an online review site has found that the popular sites like eHarmony and Match.com would work well for anyone, but that people should examine what stage they are in life before they make a choice for which site to become a member of.
The question of whether eHarmony or Match is better cannot be answered so generally the site says.
It says eHarmony is best for those in the life stage of settling down, thinking about marriage, and looking to be committed.
Match, the site says, is best for those still in the stage of dating for the fun of meeting new people and trying to decide their likes and dislikes in partners.
The reviews say that the reasons for this is that at eHarmony, members are given compatible matches based on a personality test. Members can only view other members on the site that eHarmony says they will be compatible with.
At Match.com members also take a compatibility test and are given matches, but they can subsequently search through and view members that have not been deemed "matches" for them. The site's review says this opens the doors to hours of searching through profile pictures for attractive people instead of focusing on people who they can actually have a serious, long-term relationship with.
New updates to the review show that Match.com has become a more beneficial site for some people because of the ability to meet with other compatible members face to face through their new events called "The Stir." The review says these events are set up by Match.com solely for members to mingle with other compatible members so the guess work is taken out of trying to meet people in a social setting.
The site reports that both eHarmony and Match have over 20 million members. "With that many members, you've got to believe that there's somebody for everybody online... It opens up a level of hope and optimism for people who can't find what they're looking for in their daily lives. Everybody deserves to find the right person for them and dating websites help to make that possible."
The review site, BestDatingWebsitesReviews.com is a large site that says it gets all of its reviews from people who really went online, and became members of each dating site. They say that some "review sites" just go onto the dating websites and pull from their marketing material to use as a review, but they say at BestDatingWebsitesReviews.com, the reviewers spend at least 15 hours reviewing the sites. They say this gives people the best idea of what kind of site would be best for them.
They also have a blog on their site dedicated to helping people have healthy relationships. They blog about love, proposing, breaking up, cheating, and many other topics. Some of their most popular blogs are titled "I Want To Stop Cheating," "How To Know When You've Found The One," "Don't Let People Walk All Over You," and "Rebound Relationships."
There is also a forum on the site where people can speak their mind about their opinion on dating sites, relationships, and any of the content within the website. About 150 people have posted their opinion to the forum on the site.