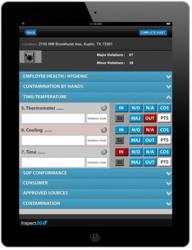 EHS Audit, Permit and Manage Using Mobile Tablets
Orange County, CA (PRWEB) April 30, 2013
Inspect2GO's EHS audit software is specifically designed for municipal health inspectors. Using Inspect2GO, environmental Health and Safety (EHS) and Department of Health (DOH) inspectors conduct audits electronically, with no clipboard or manual paperwork.
While conducting an audit, health code violations and corrective actions are filled in on the tablet via checkboxes and notes. Photos and on-screen signatures are stored electronically. Permit and other restaurant data is automatically pre-filled by pulling the information from a database. The completed inspection report can be sent while onsite as a PDF directly from the tablet, or printed via wireless printer. Inspection data can also be stored on Inspect2GO's cloud server, or health department servers. The applications are native, resident on the tablets. Therefore, a web or cell connection is not necessary while entering information during an audit.
Back end solutions can be tailored to the client. Communicate between the mobile device and database via web services. Manage documents, reports, permits, restaurants and other establishments via an online web portal. Report health code violations and scores on a public facing website. Schedule staff and audits via google maps. See Flowchart (http://www.inspect2go.com/ehs/health-inspection-software-flowchart/)
EHS Audits:

Retail Food Establishment
Temporary Food Service
Consumer Health
Playground
Childcare
Sewage
Pest
Custom
Versions of the software are available for the following mobile devices:

Apple iOS – iPhone and iPad
Android – Samsung Galaxy tablets and phones
Windows 8 – Smartphones and tablet PCs
The following features are offered on all of our tablet based health inspection applications:

Photos
Signatures
PDF reports
Scoring
Checklists
IN (in compliance), OUT, NA, NO (not observed), COS (corrected on site) Checkboxes
Customers can chose from any of the following advanced functions:

Custom formatted reports
Data handling and storage in Inspect2go cloud or customer's SQL server
Data analysis, charting and graphing
Scheduling
Posting violations/complaints automatically on public website
Reference local, public health code
Database for pre-filling food establishment info onsite - address, phone, permit number, contacts, etc.
GPS/Google maps integration
ABOUT INSPECT2GO
Inspect2GO, Inc. (http://www.inspect2go.com) is a mobile application, cloud database and software development company based in Southern California. The firm's mobile technology includes inspection checklists and native apps with signature capture, photo taking and data collection functions. Custom audit rating and scoring functions are included. PDF inspection reports are generated from the mobile device, or from data stored on cloud servers. The software is compatible with Apple iOS (iPhone, iPad), Windows 8 mobile devices and Android tablets. Inspection results are sent to Inspect2GO's cloud database, or to customers' servers for storage. Advanced features include data charting, graphing and document management. Reports, trends and data feeds can be retrieved from the cloud server via a browser-based web portal. The software is not available on iTunes or the Android Marketplace. Instead, customers contact Inspect2go directly to have the software tailored to meet their unique needs.