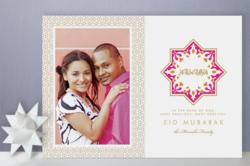 I was more than excited when Minted gave designers the opportunity to create Eid-ul-Fitr cards. It was fun to transform those traditional elements into something clean and modern.
San Francisco, CA (PRWEB) July 27, 2011
Minted (http://www.minted.com), the online store powered by a global design community, announces the launch of its first Eid card collection. The collection is comprised of 17 unique Eid cards, all crowdsourced from Minted's International Celebration Challenge and voted on by thousands of consumers.
"Gracious Star," created by Minted designer J.Bartyn, is the winning Eid card design of the International Celebration Challenge. "I've been smitten with Islamic geometric patterns and style ever since I designed invitations and stationery for The Mosaic Foundation, a non-profit organization founded by the wives of Arab ambassadors," said Cambria Evans, the designer behind J. Bartyn.
"The design heritage of the Arab World is so rich and full of elements to draw upon for inspiration, and yet it is often neglected in the market. So, I was more than excited when Minted gave designers the opportunity to create Eid-ul-Fitr cards. It was fun to transform those traditional elements into something clean and modern."
Lena Barakat's "Elegant Eid" took second place in the International Celebration Challenge. "My Elegant Eid design showcases the beautiful poetic phrase Bismillah ir-Rahman ir-Rahim in the center of the seal," says Lena. "It means, "In the name of God, most Gracious, most Compassionate," and is the essence of the Qu'ran. It is a phrase expressed with heartfelt sincerity, which is why I wanted to embody it centrally within the card."
"As a Muslim-American I jumped at the opportunity to create Eid cards on Minted.com! It is such an honor to be able to help spread the spirituality and happiness that Eid represents. It's wonderful that Minted has opened its doors in welcoming multi-faith based holidays, enabling me and other designers to share our beliefs through art, beauty and creativity," says Lena of the challenge.
Ponn Sabra, the founder and owner of American Muslim Mom, an online community for American Muslims, was the guest judge for this challenge. Ponn chose the design "Arab Window" by Ana Sousa for her judge's award because of its uniqueness.
"This original use of Islamic Architecture is highly significant in masajids (mosques) and Islamic architecture throughout the world, and my daughters and I have literally taken window (and door) pictures from masajids in America, Europe, Africa, and Asia Minor from this view. There's much depth to this highly creative, simple, elegant, unique, bright, and eye-catching card."
The designer behind Ponn's selection, Ana Sousa, is based in Portugal. "Designing for this challenge was amazing, because I learned from reading about the Islam culture and that inspired me to reflect what I learned through my designs. I focused my attention on the architecture forms and styles of mosques and buildings in the Muslim countries. You can see that in Arab window, which is directly inspired by Islamic architecture."
"We believe that regardless of which religion you practice or holidays you celebrate, you should be able to find a beautiful card that really reflects the heart of the event, which is why we're so pleased to offer Eid cards," says Minted CEO and founder Mariam Naficy. "It was very moving to see designers share their faith with the community and also for others to learn about religious traditions by participating in this challenge."
About Minted's Design Challenges:
Minted's mission is to allow consumers to discover design genius from all over the world, providing an opportunity for designers to build their careers on merit alone. Minted holds monthly design challenges to source designs from a large global community of designers. The Minted community selects the best designs in a highly competitive and meritocratic process, yielding a top selection of the freshest, finest cards in the world. To that end, Minted's 2011 Holiday Card competition was the company's biggest challenge yet: over half a million votes were cast for 2,554 designs, and the top contenders were chosen by Minted's community for sale.
About Minted:
Minted is a venture-backed design community and online store, crowd-sourcing graphic designs and content from a global design community and selling those as premium printed paper products initially focused on the $10 billion stationery, invitations, and cards market.
Minted has radically transformed what consumers now expect in wedding invitations, Christmas cards, save the dates, birth announcements, business cards, and other personalized stationery. The company's paper and printing is of the highest quality and it leads the market with the freshest designs, newest formats and most coveted details. Minted's fresh, unique designs have been featured on The Today Show and The Early Show, and in Real Simple, Town & Country, InStyle Weddings, Food & Wine and other major national magazines.
###