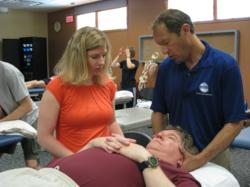 EIM you guys rock! Manipalooza was awesome!
Louisville, KY (PRWEB) May 02, 2011
Evidence In Motion (EIM), a physical therapy education and consultation company, is excited to announce the 2011 Manipalooza faculty. Andrew Bennett, PT, DPT, Larry Benz, PT, DPT, Bob Boyles, PT, DSc, John Childs, PT, PhD, MBA, Josh Cleland, PT, PhD, Tony Delitto, PT, PhD, FAPTA, Julie Fritz, PT, PhD, Jack Miller, PT, MCISc, Paul Mintken, PT, DPT, Jason Rodeghero, PT, DPT, MPT, Tim Flynn, PT, PhD, and Rob Wainner, PT, PhD will present during this four day conference.
Manipalooza is a 4 day festival of hands on learning in manipulation, soft tissue techniques and pain management strategies for physical therapists. New topics for 2011 including "Mobilization with Movement," "Advanced Ribcage Manipulative Management," "Craniomandibular Manipulative Management," and "Instrumented Soft Tissue Techniques" will be presented. Manipalooza will be held on May 21-24, 2011 at the University of Colorado- Denver.
EIM's faculty, which includes those who will be teaching at Manipalooza, has received ninety-five-plus research grants, totaling over $10.5 million. EIM faculty members have also taught 220-plus university level courses, founded over forty different business organizations, and held appointed positions in forty-plus state and 115-plus national and international professional associations. Research and teaching awards, such as The Discovery Health Clinical Excellence Award in Back Care, Manuscript Reviewer of the Year by Physical Therapy Journal, the Ruby Decker Award, the Rose Excellence in Research Award, the Eugene Michels New Investigator Award, the Jack Walker Award, the U.S. Air Force Outstanding Achievement in Clinical Research Award, and the William Gould Memorial Faculty Award from the Texas Physical Therapy Association have been awarded to EIM faculty members.
"EIM you guys rock! Manipalooza was awesome!" states a 2010 Manipalooza participant. "Thanks for a great course. You guys know how to do it right. I can't wait to get back & put this stuff into practice."
Another 2010 Manipalooza participant states, "...in 9 years of being a PT & attending different courses this was the BEST one I have been to...I had so much fun & learned so much; this course has & will continue to change how I practice..."
If participants cannot make the full four day event, there is an option to attend a series of presentations on Saturday May 21, 2011 from 8am-12pm. This section of Manipalooza, Manipalooza Mosh, includes topics such as Evidence Updates, Provocative messages and Healthcare 2020.
More information about Manipalooza can be found at Manipalooza.com or EvidenceInMotion.com.
About Evidence In Motion (EIM):
Evidence in Motion (EIM) is an education and consultation company whose sole reason of existence is to elevate the physical therapy profession and the role of physical therapists in healthcare delivery. A strong dedication to fostering the creation and assimilation of an evidence-based practice culture within the physical therapy profession is a cornerstone of Evidence In Motion's mission. They have put in place evidence-based practice treatment pathways in many facilities and aims to promote the global sharing of information and ideas, thus advancing evidence-based physical therapy practice, research and education around the world. Evidence In Motion offers Continuing Education, Residencies, a Fellowship Program, a Musculoskeletal Transition DPT, and an Executive Program in Private Practice Management with optional Transition DPT. For more information, please visit EvidenceInMotion.com. You can also find Evidence In Motion on Facebook and Twitter, @EIMTeam.
###