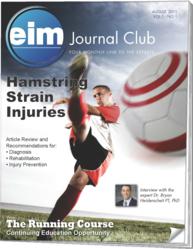 In today's world of constant innovation and discovery, it is almost impossible to stay on top of all new developments. EIM's Online Journal Club will help solve this problem.
Louisville, KY (PRWEB) September 08, 2011
The Evidence In Motion (EIM) Institute of Health Professions, a company created to assist in the continued education of physical therapists, is excited to announce the launch of an innovative product specifically designed for today's evidence-based physical therapists, The EIM Online Journal Club. The product was launched on September 1, 2011 and is available for purchase through the EIM website.
The EIM Online Journal Club is designed for physical therapy professionals, students, and faculty who are too busy to attend traditional conferences and journal club meetings, but want to stay up-to-date with the latest evidence-based practices. Reasonably priced at $14.10 per issue, each edition of the journal club is packed with video clips demonstrating key interventions, podcast interviews with top industry experts, and actionable steps to put the evidence immediately into clinical practice. In addition, EIM's Online Journal Club features an interactive community forum where subscribers can ask questions, answer questions, and engage with their peers. Once subscribers join the journal club they can watch and listen immediately or download the information to their laptop, smart phone or mp3 player.
"One of the challenges I find being an evidence-based therapist is keeping up with all the latest research," states Sasha Sibree, the journal club's creator and practicing physical therapist. "Between a busy clinic, being a proud new father, and staying in shape, I find there is not a lot of time left in my day."
Special introductory subscription rates to the journal club are available for individual and corporate subscribers through September 2011. EIM is also offering a free gift to the first 50 people that subscribe and is running a contest where individuals will be invited to enter to win a free one-year subscription.
"EIM is very excited to partner with Sasha on this new product. We feel as though the virtual journal club is going to revolutionize how the latest evidence-based information is distributed and consumed by today's physical therapist," says Larry Benz, PT, DPT, EIM owner. "In today's world of constant innovation and discovery, it is almost impossible to stay on top of all new developments. EIM's Online Journal Club will help solve this problem."
For more information on how to order your subscription to EIM's Online Journal Club visit evidenceinmotion.com or email mary(at)physicaltherapist(dot)com.
About Evidence In Motion:
Evidence in Motion (EIM) is an education and consultation company whose sole reason of existence is to elevate the physical therapy profession and the role of physical therapists in healthcare delivery. A strong dedication to fostering the creation and assimilation of an evidence-based practice culture within the physical therapy profession is a cornerstone of Evidence in Motion's mission. They have put in place evidence-based practice treatment pathways in many facilities and aims to promote the global sharing of information and ideas, thus advancing evidence-based physical therapy practice, research and education around the world. Evidence In Motion offers Continuing Education, Residencies, a Fellowship Program, a Musculoskeletal Transition DPT, and an Executive Program in Private Practice Management with optional Transition DPT. For more information, please visit EvidenceInMotion.com. You can also find Evidence In Motion on Facebook and Twitter.
# # #