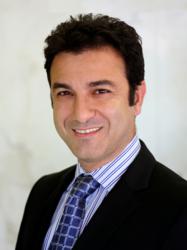 It's an incredible honor to be selected to such a prestigious club," Dr. Firoozmand said. "Even though I'm not in this for awards, it's nice to know that someone respects what we're doing. I'm really grateful for the recognition
(PRWEB) July 12, 2012
Beverly Hills Colorectal Surgeon, Dr. Eiman Firoozmand, was named one of Los Angeles's top doctors for 2012.
"It's an incredible honor to be selected to such a prestigious club," Dr. Firoozmand said. "Even though I'm not in this for awards, it's nice to know that someone respects what we're doing. I'm really grateful for the recognition."
Only five percent of the doctors in Los Angeles are selected as Top Doctor. Each year, the research team at Super Doctors undertakes a rigorous multi-phase selection process. The process involves a survey of doctors, independent evaluation of candidates by the research staff, a peer review of candidates by practice area, and a good-standing and disciplinary check. 
Dr. Firoozmand is a board certified colorectal and general surgeon. He is an attending surgeon in the Division of Colorectal Surgery at Cedars-Sinai Medical Center. His clinical and research interests mainly involve the treatment of colon and rectal cancer, inflammatory bowel disease, and benign anorectal disease. He utilizes laparoscopic surgery and new techniques for hemorrhoidal surgery, such as the procedure for prolapse and hemorrhoids (PPH).
After receiving his Medical Degree from the University of Southern California (USC) School of Medicine, Dr. Firoozmand completed his surgical residency at Santa Barbara Cottage Hospital and his fellowship in colon and rectal surgery at the Keck School of Medicine at USC. He has been published numerous times in The American Surgeon; The Journal of Trauma, Surgical Laparoscopy & Endoscopy; Circulation Research and Circulatory Shock.
La Peer Health Systems focuses on excellence in patient care and offers the most advanced and contemporary treatments and equipment that the medical world has access to. With 42 doctors across 13 departments, from anesthesiology to urology, La Peer offers comprehensive and widespread medical treatments for all patients. More information about La Peer Health Systems can be found at http://www.LaPeerHealth.com.