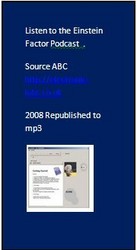 Warwick, Warwickshire (PRWEB) May 1, 2008
ELECTRONIC-LABS.co.uk releases it's web based memory trainer - The Einstein Gene - based on current research.
'As experts in this field, our belief is that this approach will lead to significant improvements in capacity to learn, measured by the all important quantifiable results, exams and training.'
"Attended classes in Munich, Albert Einstein's learning was so poor he was told you will never amount to anything, he was an insult to the school, unaware that the problem was one of auditory focus, he was removed from the school, the teachers never saw his visual spatial brilliance , never saw his persistence, never saw his potential only the ineptitudes of the future Nobel prize winner. If Einstein has taught us nothing else it is that spelling and number competence is not more important than insight and vision"
Extract ABC Einstein Factor Podcast
Recent Evidence suggests that dyslexia results not from deficit but from differences in how the brain processes written and/or verbal language. Although dyslexia is the result of a neurological difference, it is not an intellectual disability.
In 2008 a Unified Theory of Dyslexia was developed, bringing together.
Thomas G West 'In The Minds Eye Visual Thinkers And The Hidden Gifts Of Dyslexia ' and Howard Gardner the Harvard professor, author of Multiple Intelligence Theory , who is quoted on the cover of West's seminal book . 'This book proves beyond doubt, that we are not all points on a single bell curve of intelligence', with Dalby [Evolution Theory], Julian Elliot 2005 'The Dyslexia Myth', Ronald Davis , Norman Geschwind and John Everatt. In 2007 Jonh Everatt. The University of Surrey, demonstrated that dyslexics score significantly better on tests of creativity, spatial memory, spatial reasoning vocabulary and listening comprehension.
Electronic-labs vision, multiple intelligence do not have to managed they can instead be a gateway to realization of academic achievements, using interventions which includes strategies geared to unique strengths.
The hope is this approach will meet the demands of a hidden minority report. The older post literate demographic who's training needs are not being met, who have been or are being ignored by education, because they get by, who's chance of excellence appears to have gone for good, the gifted, those with high IQ, those with insight vision, talents and determination. The springboard to opportunity for those who want to help themselves has always been and will always be education, qualifications and training.
'We realize time is precious and attention spans are brief , that is why we have a 24 hour post to post induction period, if you find us online, we feel you should be able to act online, you should not have to wait'. To turn this project into an immediate e learning experience. In 2008 distribution, ordering and downloading have all been moved online, by REGNOW, a specialist who monitor the http://www.theeinsteingene.co.uk site, 24 hours a day 7 days week.
###