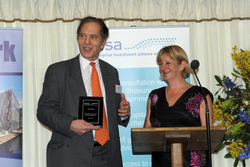 I am delighted and gratified to have been selected for this award, having worked with Business Angels and VCT Investors and funds for many years I am keen to promote EIS as a real alternative and one that will support the growth of business in the UK
London, UK (PRWeb UK) March 9, 2011
The industry body for the Enterprise Investment Scheme ("EIS") held its prestigious annual reception and awards ceremony last night at the House of Commons, 3rd March 2011. To a packed house, speaker, Anthony Thomson (Chairman of Metro Bank PLC) delivered a compelling speech about disrupting the market by changing the banking business model, which is exactly what Metro Bank has done and what many EIS eligible businesses and funds are doing today.
This popular annual event was well attended by more than two hundred EISA members and their guests, all interested in the direction in which EIS will take over the forthcoming years under the new Government. There was an underlying sense of optimism that EIS is one of the key pieces of armour in the Governments desire to stimulate UK business back into growth by offering real encouragement into investment into our entrepreneurial start ups (as stated by George Osborne in Cheshire recently).
The EIS Association is the official trade body for the EIS, a tax efficient scheme designed to encourage private investment in British enterprise. EIS offers investors five compelling tax breaks (see attached) that reduce their risk when investing in typically early stage companies. EIS investments can either be made in individual companies or increasingly in the form of funds. The Scheme is gathering increasing favour amongst investors and advisers, as appreciation of the tax benefits is more widely understood coupled with a desire to support the growth of British businesses. This month will also see the launch of the new EISA website completely re-designed to promote member services and to make it easier for those seeking information about EIS to access it.
Chaired by Lord Flight (a serial individual investor and business man), the Association has continued to grow year on year, now achieving over one hundred professional members from fund management companies, Legal Advisers, IFA's and Tax Accountants. EISA works professionally and successfully with HMRC and Treasury to streamline and improve the rules of the EIS and is, indeed, actively involved in the current consultation regarding proposed new changes to the tax reliefs.
Lord Flight comments "I continue to take an active role in the EISA because I believe strongly in the need for government to take a lead in encouraging investment into the British businesses of the future. Offering investors strong incentives will encourage more to come forward, more innovative funds to be formed that will support more British based businesses enabling them to thrive in a global market."
This years EISA Award winners were PricewaterhouseCoopers, Best EIS Tax Adviser; Edwin Coe, Best EIS Legal Adviser and Oxford Capital Partners as Best EIS Fund Manager. A best individual or corporate contribution award was given to Modwenna Rees-Mogg, Managing Editor of Angel News for Best Individual EIS contribution for her work with business angels.
Modwenna said "I am delighted and gratified to have been selected for this award, having worked with Business Angels and VCT Investors and funds for many years I am keen to promote EIS as a real alternative and one that will support the growth of business in the UK."
This year's event, sponsored by Enterprise Corporate Finance, Highgate Tech Fund, Merepark Project Management, Oxford Capital Partners and RW Blears was a clear success.
# # #