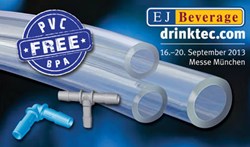 These new features for beverage tubing allow our customers to increase the quality of their beverage products while maintaining the features of clarity and flexibility critical for quality. assurance
Denver, Colo. (PRWEB) July 31, 2013
EJ Beverage, an innovative U.S. based manufacturer of plastic tubing and connectors for the food and beverage market, announced today they will be unveiling a full line of tubing and fittings at Drinktec 2013 in Munich, Germany. The product line, now tested and proven for food and beverage applications, is the beneficiary of years of research and innovation from the biomedical side of the 26 year old parent company, Eldon James.
"Due to the chemical characteristics in PVC and the constant buildup of biofilm within tubing, the food and beverage industry has been searching for alternatives for draught and dispensing systems, " exclaimed Greg Kinney, director of food and beverage. "Our innovations for medical applications have allowed EJ Beverage to eliminate PVC commonly used in beverage tubing and we have added our antimicrobial solution as an additional option. These new features for beverage tubing allow our customers to increase the quality of their beverage products while maintaining the features of clarity and flexibility critical for quality assurance."
EJ Beverage has developed these technologies with an initiative of corporate social responsibility, encompassing safer materials and processes while providing solutions that have a positive impact on beverage producers and consumers worldwide.
Because the tradeshow runs every 4 years, EJ Beverage considers Drinktec 2013 an excellent platform to share the rollout of this product line for food and beverage markets.
For more information or to request tickets to the Drinktec show in Germany, visit http://www.EJBeverage.com.