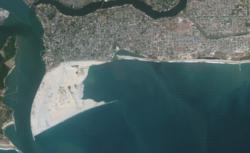 Victoria Island, Lagos, Nigeria (PRWEB) February 03, 2013
An American satellite orbiting more than 400 miles above the Earth's atmosphere has captured a spectacular photograph of the successful reclamation of land from the sea for Eko Atlantic, the new city development for Lagos, Nigeria.
The high-resolution image shows the Lagos coastline off Victoria Island in early January, 2013 when the newly reclaimed land mass from the Atlantic Ocean had reached more than four million square metres. It is protected by a sea-revetment known as The Great Wall of Lagos.
The Great Wall has been built to more than three kilometres in length and will soon reach the halfway stage. It will not only protect Eko Atlantic from ocean waves but low-lying Victoria Island as well.
The satellite view clearly illustrates that the developers and city planners of the new city have now partially restored the coastline to where it was a century ago. The work continues.
Eko Atlantic is being positioned as Africa's leading investment opportunity for residential and commercial activities. The 21st century city will become home to 250,000 people and the workplace for another 150,000.