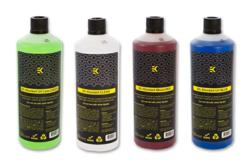 The anticorrosion coolant is ecologically friendly and without nitrite, silicate, phosphate and mineral oil it is 85% biological degradable within 30 days.
Los Angeles, CA (PRWEB) September 21, 2011
Environment in water/liquid cooling systems for PC's are very challenging. Often taken a bit lightly, conditions are quite complex and can create numerous problems. Different types of metal (noble metals, alloys), used in loops, have a different standard electrode potential and when they come in contact with conductive liquid a condition for galvanic corrosion is set. A galvanic couple can also be set up on a single metal or alloy due to the metal surface not being homogeneous or if the electrolyte varies in composition, forming a concentration cell. There is also sunlight and water, which are perfect conditions for growing of algae. For users it is very important that color remain brilliant over time. But durability of color is often compromised. It takes a lot of different angles to make a good liquid to cover all this challenges.
After long and thorough development and testing EK Water Blocks has finally released the premixed coolants for use in water cooling systems. As Edvard König, CEO of EKWB stated: "We had an idea of quality coolant long on our minds and on our tables, but it took even longer to make sure that liquid will deliver excellent performance."
The resulting mixture and ratio of distilled water, anti-corrosion additive, anti algae growth additives and dyes, make the coolants perfect for every water cooling loop. The ultimate anti-corrosion coolant additive carefully chosen and tested from the automotive industry enables users to use different metals in the same loop. Using Brass or Aluminium radiators, Copper blocks, Nickel plated blocks, and Steel parts in the same water-cooling loop is not a problem anymore. The anti-corrosion coolant is ecologically friendly and without nitrite, silicate, phosphate and mineral oil it is 85% biological degradable within 30 days. The anti-corrosion additive is based on non-toxic propylene glycol. Distilled water or also called de-mineralized water used for these coolants has a extreme low conductivity of 1 µS/cm at the point of bottling.
"We were testing the durability of the colors for an extended period of time prior to launching the product using a various types of EK products. This was, aside from the possibility of breakdown and clogging of the dye, our main concern. Our EKoolant has not shown any signs of such behavior during the testing period." said Niko Tivadar, in charge of real life and maximum stress testing of each new product in EKWB.
Biodegradable water based Dyes and UV dyes are completely compatible between each other and all other components of the coolant. The dyes used in the coolant are also being used for detecting plumbing leakages, which proves how ecological friendly they are. Anti algae growth additives disables growth of algae's in the system, preventing clogging and formation of gunk.
Recognizing the needs of customers, EK has offered 3 different colors and one clear coolant without any dyes:
BLUE UV:
The Ocean shade of UV blue will take someone to the deep and clear waters of the oceans. The ever popular blue coolant glows nicely under UV light, which adds to the aesthetics of the watercooling loop.
Blood RED:
The bloody shade of red brings the true colour of blood to the watercooling loop, which makes the effort required to put into making the PC case highly visible important.
Lime GREEN UV:
The aggressive lemon shade of green makes the watercooling loop highly visible. Every visible centimeter of this coolant will show the real power of the computer, while adding the UV light will boost the effect to the sky.
CLEAR:
For the users with no color preference a Clear coolant is also available.
Additional information:
Barbara Colnar, Public Relations Manager
Address: EKWB d.o.o. Pot za Brdom 100, 1000 Ljubljana, Slovenia EU
Telephone: +386 1 620 46 90
e-mail: info(at)ekwb(dot)com
###