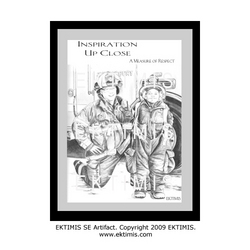 These special artistic works honor firefighters by placing emphasis on the respectful nature of their role and service.
Boston, MA (PRWEB) January 12, 2010
EKTIMIS, an innovative brand focused on reshaping thinking and attitudes, launches its debut Special Edition artifact program. The launch features specially commissioned artistic works that depict and honor firefighters and the firefighter profession. The artistic works are created and portrayed around a central theme of respect. A spokesperson for EKTIMIS states that portions of the proceeds from the sale of the artifacts will be donated to the National Fallen Firefighters Foundation (NFFF), a non-profit foundation based in Emmitsburg, Maryland.
With the U.S. economy still recovering from a severe and extended recession, the donation is expected to support the foundation in its continued mission to help the families of fallen firefighters across the country. The executive director of the National Fallen Firefighters Foundation, Chief Ronald Siarnicki, is quoted as saying, "The NFFF is pleased to have a partnership with EKTIMIS and be a part of their inspirational prints program. This artwork will strengthen the image of respect, dedication, honor and support that is prevalent in the fire service community."
The EKTIMIS Special Edition Artifact program is focused on the creation of original artworks that honor specific roles (in society) that command respect. The program follows the EKTIMIS Respect model. The program is also a tool designed to be used by EKTIMIS to inspire children, young adults and families, and to promote powerful lessons on respect - consistent with the EKTIMIS mission. Additional special edition artifacts, in the debut series, honoring two other professions (roles) are expected to be announced later this month (January).
The EKTIMIS brand is the creation of Niyi Taiwo, author of the EKTIMIS Top Ten Laws of Respect literary principles, and author of the Top Ten Laws of Respect book series. He states, "These special artistic works honor firefighters by placing emphasis on the respectful nature of their role and service."
The firefighter artifacts are currently available at EKTIMIS.com. Additional distribution outlets will be announced as they become available.
About National Fallen Firefighters Foundation:
National Fallen Firefighters Foundation is a non-profit organization created by the U.S. Congress to lead a nationwide effort to honor America's fallen firefighters. Since 1992, the Emmitsburg, Maryland-based foundation has developed and expanded programs that honor and remember America's fallen fire heroes as well as programs that provide resources to assist their survivors in rebuilding their lives. The Foundation receives funding through private donations and also special grants from designated U.S. federal agencies in support of some of its mission-oriented programs.
About EKTIMIS:
EKTIMIS is an innovative human capital development solutions provider. EKTIMIS develops its own brand of original products and services that include respect-themed books, articles, multimedia videos, workplace diversity training seminars (featuring the hallmark EKTIMIS Respect in the Workplace Program), and powerful inspirational picture-framed artifacts for individuals, working professionals, parents and families, and organizations. EKTIMIS and EKTIMIS.com are a licensed brand and an operating business division (DBA) of Strategic Enterprise Technology, Inc., a creative Boston-based performance improvement solutions company founded in 1999. Follow EKTIMIS news and activities on Twitter/ektimis and on Facebook. Also, visit the EKTIMIS Store for more information on current and coming offerings.
###