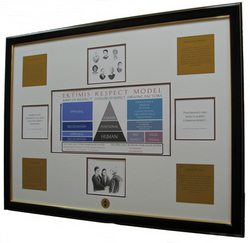 The Respect Model serves as an innovative visual tool for learning, teaching, parenting, and communicating the powerful life lessons on respect.
Boston, MA (PRWEB) September 29, 2010
EKTIMIS announces the release of its long-awaited Respect Model artifact, a powerful visual learning tool that illustrates the essence and components of respect. The innovative framed product portrays the various elements of the concept of respect, a topic that continues to dominate headline news on matters that include bullying in schools, parenting, quality education, role model, workplace culture, and public service.
With the country (the United States) currently immersed in a national debate on quality education, parents and children still dealing with the recurring concerns of bullying in schools, and one public role model after another struggling with issues of drug abuse, the topic of respect (and self-respect) continues to emerge as a strong undercurrent for these societal issues and more. In addition, business executives and human resources managers continue to deal with the ongoing challenge of cultivating a workplace culture of respect in an effort to retain good employees and better manage a diverse workforce.
The EKTIMIS Respect Model serves as an innovative visual tool for learning, teaching, and communicating powerful life lessons on respect. The artistic work is the creation of Niyi Taiwo, author of the EKTIMIS Top Ten Laws of Respect literary principles, and author of the Top Ten Laws of Respect book series. A spokesperson for EKTIMIS has confirmed that the first order for several of the Respect Model artifacts was shipped recently to a U.S. Air Force Center of Excellence in Texas, a group that completed the EKTIMIS Respect in the Workplace training program several weeks ago.
EKTIMIS has also confirmed that there are four variations of the Respect Model currently designed for a business (workplace) environment with many more versions planned during the coming months. The new variations will reflect an educational environment, family life, as well as health care, social services, public service, and many more settings. The EKTIMIS Respect Model collection is currently available at EKTIMIS.com.
About EKTIMIS:
EKTIMIS is an innovative human capital development solutions provider. EKTIMIS develops its own brand of original products and services that include respect-themed books, articles, multimedia videos, workplace diversity training seminars (featuring the hallmark EKTIMIS Respect in the Workplace Program), and powerful inspirational picture-framed artifacts for individuals, working professionals, parents and families, and organizations. EKTIMIS also offers a Custom Artifact Program that provides an innovative platform for fund raising and for commemorative events by private and public organizations. EKTIMIS and EKTIMIS.com are a licensed brand and an operating business division (DBA) of Strategic Enterprise Technology, Inc., a creative Boston-based performance improvement solutions company founded in 1999. Follow EKTIMIS news and activities on Twitter/ektimis and on Facebook. Also, visit the EKTIMIS Online Store for more information on current and coming offerings.
###