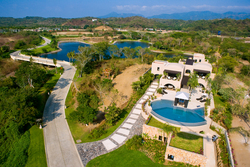 Having worked on great technology brands for much of my career, building something as tangible as a luxury real estate development is terrifically satisfying. My love of design, training as an engineer, and history as a businessman have all come into play in developing El Banco. It is my intention to create a place that others will, hopefully, enjoy for years to come
San Francisco, CA (PRWEB) February 25, 2008
Yahoo! Founding CEO Tim Koogle combines business with pleasure in his latest endeavor, luxury real estate in Mexico. The first seven Beach Villas at El Banco, Koogle's premium 100-acre, low-density community near Punta de Mita, Mexico, are now for sale for over $6,200,000 each.
Each one-of-a-kind luxurious home offers expansive views of the Bay of Banderas, Marietas Islands, Sierra Madre Mountains, and El Banco's long stretch of white-sand beach. The Beach Villas bring El Banco's signature style to life – casual indoor-outdoor living that takes advantage of the area's nearly perfect year-round weather combined with the elegance of Old World Mexico. The features of the Beach Villas include: a minimum of four bedroom suites, gourmet kitchens, elegant pools, spa-like bathrooms, multiple outdoor living spaces, high-tech amenities, and caretaker apartments.
"Having worked on great technology brands for much of my career, building something as tangible as a luxury real estate development is terrifically satisfying. My love of design, training as an engineer, and history as a businessman have all come into play in developing El Banco. It is my intention to create a place that others will, hopefully, enjoy for years to come," said Koogle.
The first phase of the Beach Villas includes seven homes, two are completed and fully-furnished, and the additional five are ready for construction.
The propriety design language of El Banco, coined New World Spanish Colonial Design, is inspired by Mexico's Spanish Colonial architectural elements – grand arches, gracious courtyards, and hand-craftsmanship – combined with a contemporary twist of indoor-outdoor design that welcomes in views, light, and ocean breezes from every direction. Living spaces extend from indoors to out, thereby blurring the lines between the elegant indoors and the natural beauty of this beachside landscape. The Beach Villas celebrate the best – old and new – of what Mexican architecture has to offer.
The luxury real estate Beach Villas are being designed by an award-winning team of bi-cultural talent, including architects, designers, and builders from HKS Inc. of Dallas, Texas, Rachel Horn Interiors of San Miguel de Allende, Mexico, an independent architecture studio of Guadalajara, Mexico, and Stone Contractors of Puerto Vallarta, Mexico.
"El Banco has raised the bar in regards to development offerings along this coastline. What makes El Banco special is the details. You can see clearly how the aesthetics of design are above and beyond, but you can also feel the quality of what isn't seen – the engineering and the construction," said John Youden, publisher of Costa Vallarta Luxury Living magazine.
About El Banco:
While on their honeymoon in 2003, Tim Koogle and Pam Scott-Koogle discovered El Banco, over 100 acres of pristine oceanfront property located on the Punta de Mita Peninsula 45 minutes north of Puerto Vallarta, Mexico. El Banco, like so much untouched land in the area, was slated for development. Tim and Pam hoped whoever purchased the property would give great care to preserving much of its natural beauty. After careful consideration, they decided that they would be the stewards of the land at El Banco and committed themselves to building a low-density luxury real estate community that would be unparalleled by any other in Puerto Vallarta and, perhaps, all of Mexico.
Leveraging Tim's 30+ years of experience as a business executive (including his six-year stint as the CEO of Yahoo! Inc.) and Pam's 20+ years in and passion for marketing and design, they began to craft their vision for El Banco. The result is their unique master plan that brings contemporized Spanish Colonial architectural influences to four areas of elegant living: El Banco Estates, Beach Villas, Casitas by the Lake, and Villas by the Park.
At the heart of the luxury real estate development will be Las Banderas del Banco, an all-suite boutique hotel, a world-class spa, several restaurants, a cooking school, several pools, romantic courtyards, and approximately 75 guest suites. El Banco's Beach Club will be at the water's edge, where residents and hotel guests can dip into one of the best swimming spots and surfing beaches in the entire bay, sip margaritas as the sun slips behind the Marietas Islands, relax by the pool, or enjoy a lunch or dinner of seafood caught that day.
About Puerto Vallarta:
Puerto Vallarta itself, only 45 minutes from El Banco, is rich with home furnishings, clothing, and jewelry shops, as well as art galleries and restaurants featuring some of Mexico's most celebrated artists and chefs. Surrounding towns offer everything from world-class golf to surf camps, and jungle-canopy tours to horseback riding trips. In nearby Punta de Mita, there is a Four Seasons Hotel, a soon-to-open St. Regis Hotel, and Jack Nicklaus and Greg Norman golf courses.
For more information on the El Banco luxury real estate development by Developer Tim Koogle, please visit http://www.elbancomexico.com.mx or http://www.lapuntarealty.com.
Press Contact:
Meredith Bradford
502-384-8161
Meredith @ elbancomexico.com.mx
###