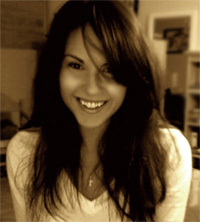 Certified Search Engine Marketer Pathway
Vancouver, BC, Canada (PRWEB) August 28, 2008
Elastic Path Software, the pioneer of flexible eCommerce software, is pleased to announce Linda Bustos, eCommerce consultant and chief blogger for the Get Elastic eCommerce blog, as the winner of Marketing Pilgrim's 2008 Search Engine Marketing Scholarship.
Bustos' winning article entitled,"8 Stupid Things Webmasters Do To Mess Up Their Analytics," won over numerous article submissions from top search marketers and offered step by step instructions on how companies can save themselves time and hassle by rethinking the way they use Google Analytics.
"Google Analytics may be lying to you, even though it tells the truth -- simply because you're not telling it how to track your site effectively," says Bustos in the article.
One point of interest in the winning article addressed the need to properly track IP addresses. Most websites are able to track IPs, but may not know whether they are doing it correctly. Adding a filter for any user who doesn't represent the target audience including company employees on their home computers, the office IP block, SEOs and other web consultants and competitors helps webmasters reduce the analysis of irrelevant traffic.
"Congratulations to Linda Bustos who won the majority of votes from our expert judges and whose entry was a great template for any "how to" article," said Andy Beal, CEO of Marketing Pilgrim. "Linda walks away with our mega-scholarship prize package and the honor of beating out some strong competition."
The SEM Scholarship Award from Marketing Pilgrim's sponsors includes:

One year "Enterprise" subscription to online reputation monitoring tool Trackur.com
Three months SEO Training from Aaron Wall
A free seat to the Eisenberg's Call to Action Seminar and a signed copy of their book
A free seat to Jill Whalen's High Rankings SEO Training Classes
Enrollment in a "Certified Search Engine Marketer Pathway" course at SearchEngineCollege.com
Six months training from MarketMotive.com
Bustos started writing on Elastic Path's blog "Get Elastic" in October of 2007, and has helped the blog become the #1 subscribed to eCommerce blog on the internet, with over 4,500 RSS and email readers.
Recognition:
Both Bustos and the Get Elastic eCommerce blog have been recognized throughout the industry. The Wall Street Journal recently named Get Elastic one of 15 entrepreneur blogs worth reading, and it is included on the AdAge Power 150 list of top marketing blogs on the web.
As an Emerging Media Analyst, eCommerce consultant and chief blogger at Elastic Path Software, Bustos' expertise spans all aspects of Internet marketing, including SEO, PPC, email marketing, social media, conversion optimization and web usability. Her experience has led to quotes by Fortune Small Business Magazine and eCommerce Guide as well as contributed articles to ProBlogger, Marketing Pilgrim and Duct Tape Marketing.
As a member of Canadian Women in Communications, Bustos served as faculty for the Banff New Media Institute's Career Accelerator Program. She was also named as one of Vancouver's Tech Women to Watch in 2008.
Bustos passion for public speaking has led her to present at numerous events including the Vancouver Social Media Bar Panel and the Banff Blog Promo for Broadcasting.
The Get Elastic Blog will be hosting a free A/B Testing Webinar on September 11, 2008 with best-selling Author, Bryan Eisenberg from Future Now.
About Elastic Path Software:
Elastic Path Software pioneered flexible eCommerce software that enables online retailers to attract and convert customers profitably. Elastic Path's fully-integrated eCommerce framework is designed specifically for mid-sized retailers operating within a multi-channel environment. Using innovative search engine optimization (SEO) technology and simplified open source components, Elastic Path's technology empowers its customers to maximize resources and quickly adapt tactics at a comfortable price. Companies such as Makeup.com, Cotswold Collections, Aeroplan, Random House, Electricshopping.com, and Xerox use Elastic Path for maximum control over their rapidly evolving online stores.
Elastic Path Software is headquartered in Vancouver, British Columbia, Canada. For more information please call 1-800-942-5282 or visit http://www.elasticpath.com.
###