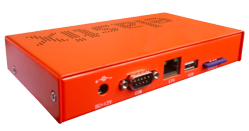 "Elastix has designed and developed this server with SMB's in mind, providing the full capabilities of a VoIP platform" - Edgar Landivar, Elastix CEO
Mexico City, Mexico (PRWEB) April 30, 2013
Elastix, one of the most successful open source Unified Communications platforms in the world, recently opened a regional office for Mexico, Central America and the Caribbean in Mexico City.
The grand opening was attended by distributors, integrators and Voice over IP/Unified Communications enthusiasts from all over Mexico - as well as corporate clients and key members of the Elastix development team.
Two new products were launched during the event: the LXP100 IP Phone, and the microUCS communications server.
"The microUCS is an ARM-based Unified Communications server supporting up to five concurrent calls and 15 VoIP extensions. Elastix has designed and developed this server with SMB's in mind, providing the full capabilities of a VoIP platform", said Elastix CEO Edgar Landivar.
"We're very happy that México will be our regional headquarters for Central America and the Caribbean. Mexico has the second highest number of Elastix downloads in the world - and an ever-increasing number of implementations which help generate an interesting synergy that promotes change in several sectors such as telephony providers. This drives us to improve and extend our product and service offerings in the region", said Elastix Mexico Director Boris Garfias.
Elastix's microUCS joins the miniUCS and the rest of the Elastix Appliance line, offering VoIP technology to an SMB market that did not, so far, have low-cost, high quality alternatives in the 10-20 user range.
For more information on Elastix Mexico's products and services, please visit http://www.elastixmexico.com.mx
About Elastix
Elastix is a VoIP telephony and Unified Communications solution. It integrates the best tools available for Asterisk-based PBX's in a simple web-based interface for easy administration. It also provides its own set of utilities and allows for the creation and distribution of additional modules promotable by their own developers, thus being the first "Unified Communications Applications Store" specific to the sector, another milestone for this successful Latin American company. All these features make it one of the most powerful open source software packages available in the market.
For more information about Elastix visit http://www.elastix.com
About Elastix Mexico
Elastix Mexico is Elastix's regional office covering Mexico, Central America and the Caribbean. Its mission is to contribute to the development of open source unified communications through Elastix. Elastix Mexico offers a wide variety of services ranging from the ELX and NLX line of Unified Communications Appliances, through vendor support, training and custom developments.
Elastix Mexico Contact:
Boris Garfias
Tel: +52 (55) 1164-7616
bgarfias(at)elastixmexico(dot)com(dot)mx