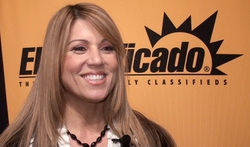 I don't speak strictly about the economy, but personal motivation applies to everything in life
Los Angeles, CA (Vocus) October 20, 2010
Hundreds of excited small business owners gathered at the Quiet Cannon in Montebello eagerly awaiting the arrival of Maria Marin. As she walked out on stage, the energy only grew, with the audience rising to a standing ovation at the 2010 Su Socio de Negocios Expo. The Puerto Rican motivational speaker gave a culturally insightful presentation on the art of negotiation, reminding the attendees to ask for what you want and deserve, make sure to not shortsell yourself and to set your expectations higher. Then you will achieve even more.
"I don't speak strictly about the economy, but personal motivation applies to everything in life," said Marín after delivering her speech. "The mind is the true money maker."
The famous radio host of "Tu vida es mi vida" (Your Life is My Life) took pleasure in the public's enthusiasm for being "extroverted, loud, and cheerful," and hoped "everyone returns home with a different mindset, because in the end emotional stability is more important than a business."
Milquíades de Jesús, a Dominican entrepreneur, said, "I thought it was a very good speech and can't wait to apply it to my business. I liked the idea of asking for more to obtain more. I think it really makes sense."
In addition to being a great opportunity for attendees, some of which traveled from cities as far as Rancho Cucamonga and Ojai, the event delivered for sponsors like Sage, a marketing company. "The truth is, I thought there was going to be less activity, but I've been alone at the booth and haven't been able to sit down for a minute," exclaimed Carlos Kohan, the company's director.
Following her speech, Marín autographed copies of her book "Pide más, espera más y obtendrás más" (Ask for More, Expect More, and You Will Get More), for the many fans lined up after the event.
The annual expo, connecting Latino small business owners to major product and service providers, was sponsored by Wells Fargo, Verizon, Staples, State Farm and the SBDC, and presented by El Clasificado.
"Su Socio de Negocios" is a series of events provided in Spanish to help entrepreneurs further grow and flourish their small businesses. In addition to the expo, free small business breakfast workshops are held throughout the year on topics such as using low cost accounting software, marketing using free technology tools, and how to use Facebook for business. The next breakfast seminar will take place on December 1st at El Clasificado's corporate office in Norwalk. The SuSociodeNegocios.com website and electronic newsletter reach more than 25,000 small business owners each week and provide ongoing tips for businesses operating in U.S. Latino grassroots communities.
For media inquiries or for additional information, please call Alicia García, Director of Communications, at 1-800-450-5852 or agarcia(at)elclasificado(dot)com.
# # #