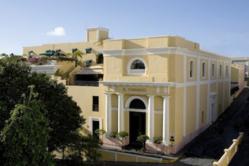 San Juan Puerto Rico (PRWEB) November 02, 2011
Historic El Convento Hotel in San Juan Puerto Rico, garnered two top spots in leading travel publications: Condé Nast Traveler, named it one of the Caribbean´s top ten hotels while Destination Weddings, labeled it as one of the best hotels for celebrating weddings in Puerto Rico.
The November 2011 Condé Nast Traveler, displays the 24th edition of the Readers' Choice Awards, with El Convento securing a position within the top favorite hotels in the Caribbean.
Destination Weddings, with a readership of 175,000, chose El Convento Hotel among the top 25 hotels in the world for celebrating weddings. The article highlights the history, gastronomy and location of El Convento Hotel, built in 1651.
"These recognitions confirm what we already know: that Puerto Rico Does it Better!," said Puerto Rico Tourism Company Executive Director, Mario González Lafuente. "In terms of hotel accommodations, Puerto Rico offers everything from top-brand resorts, guest houses and Paradores that range from trendy boutique hotel venues, to 5-star accommodations like the W Retreat and Spa in the offshore island of Vieques. We thank both Condé Nast Traveler and Destination Weddings, for helping spread the word," he added.
###