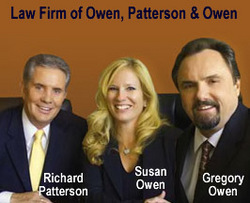 We take our responsibility towards the people we represent in personal injury cases very seriously
Valencia, CA (PRWEB) July 21, 2010
Victims of elder abuse have an advocate in Los Angeles personal injury attorneys Owen, Patterson & Owen. The law firm has successfully represented elder abuse victims in the past and offers a free, no-obligation consultation to victims and their families.
In a recent elder abuse case involving a senior care facility in Southern California, Owen, Patterson & Owen won a landmark verdict of $12.5 million in damages for their client. "This case sent a strong message that the mistreatment of elders should not be tolerated," said law firm partner Gregory Owen.
A Los Angeles Superior Court jury awarded Owen's client $6 million in general damages and $6.5 million in punitive damages following an incident of abuse. The $12.5 million judgment is one of the largest ever awarded for emotional trauma.
Elder abuse is a problem that is fairly widespread in America today. A 1994 survey indicated that approximately 5% of the nurses' aids on file with state regulators had a criminal record involving violence and/or theft. Additionally, a congressional report from 2001 found that state inspectors cited cases of "serious abuse" at one nursing home in 10.
The Nursing Home Reform Act and the Americans with Disabilities Act protect the rights of seniors receiving care in a nursing home. Residents have the right to be free from mental and physical abuse; be free from unnecessary physical and chemical restraints; be treated with consideration, dignity and respect; and have the right to self-determination. It is often up to the families of the elderly to seek redress when these rights are violated. Elder abuse can be physical, emotional, sexual, financial, or involve neglect or health care fraud.
Symptoms of abuse include unexplained injuries or personality change, neglect, or inappropriate physical restraint. A broader list of the warning signs of abuse is available at the Owen, Patterson & Owen Los Angeles elder abuse attorney website page.
Owen, Patterson & Owen offers a free, no-obligation consultation to victims of elder abuse and their families available via the company's website or by calling the firm's toll-free number listed at the bottom of this page. "We take our responsibility towards the people we represent in personal injury cases very seriously," said Rick Patterson.
About Owen, Patterson & Owen:
Since 1977, the Owen, Patterson and Owen (OPO) team has successfully handled a range of personal injury cases ranging from medical malpractice to birth accidents and wrongful death. Serving clients nationwide and headquartered in Valencia, Southern California, the personal injury law firm's clients rely on them to look out for their best interests. The firm's dedicated Los Angeles personal injury attorneys played an instrumental role in obtaining a $4.85 billion settlement of the dangerous drug Vioxx and a record-setting $35 million pretrial settlement on behalf of a 12-year-old brain-damaged Palmdale girl. OPO Law now also represents clients who have experienced elder abuse. For more information, please visit http://www.OPOLaw.com or call 866.654.4947
###