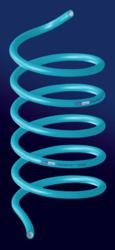 Denver, CO (PRWEB) October 25, 2012
Compamed is held in parallel with the world's largest medical trade fair, Medica. This unique combination represents the entire process chain and the full range of medical products, devices and instruments. While the program at Medica is primarily aimed at users of medical technology, the majority of visitors attending Compamed are engineers, developers and buyers from the medical technology industry. In 2011 the two fairs welcomed a total of 134,500 trade visitors.
Eldon James looks to highlight some of their key innovations for this market including their long life, peristaltic pump tubing that is autoclavable to 135° C. Eldon James tubing combines clean barrier tubing with an antimicrobial silver lining, offering low permeability to eliminate odors and antimicrobial protection to inhibit bacterial growth in the tube. Antimicrobial fittings are also available to offer a complete protected flow path. This technology is proving to be a clear choice for wound drainage and multiple types of catheters. Tubing and fittings are available off the shelf for immediate evaluation. Custom sizes, private labeling and lot identification are also options available to Eldon James' customers.
These and other recent developments for Eldon James in the medical, biomedical and pharmaceutical industries have contributed to their strong growth in American manufacturing. All of their products are manufactured in the United States in Colorado and Eldon James' presence at Compamed shows their continuing growth, commitment and support of the European markets as well. For more information, visit http://www.eldonjames.com/med.