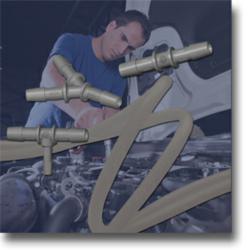 TS 16949 was an important step for us to demonstrate that we adhere to the industry standards for quality control and defect prevention for our tubing and fittings
Denver, CO (PRWEB) January 11, 2013
Eldon James Corporation, a leading, U.S. based manufacturer of plastic tubing and fittings, announced today that they have received the ISO/TS 16949:2009 certification demonstrating their commitment to the highest standards commonly required by the automotive industry.
The ISO/TS 16949:2009 is an ISO technical specification focused on the development of a quality management system that provides for continual improvement, emphasizing defect prevention and the reduction of variation and waste in the supply chain. Eldon James has manufactured and supplied plastic tubing and fittings for the automotive market for over 20 years. Most recently, they have developed special fittings and multi-layer tubing compatible with many of the biofuels present in the automotive market today.
"With our continuing growth and new innovations for the automotive market, we have solidified our commitment to quality with this certification," stated Tiffanty Wagner, Quality Control for Eldon James. "Because of the increasing demand for our products from the OEM side of the market, the TS 16949 was an important step for us to demonstrate that we adhere to the industry standards for quality control and defect prevention for our tubing and fittings," stated Tiffany.
Eldon James is a woman owned, Colorado based manufacturer with international reach that has continued to see growth through difficult economies. With innovations for the automotive industry including thermoformed tubing and materials resistant to the variety of biofuels, the ISO/TS 16949:2009 certification shows Eldon James' continuing commitment to this very important industry.
For more information, visit http://www.eldonjames.com/auto.